Lily had her weekly chemo appointment today, so I have been pretty much out of the loop today. Lily is still doing super well, all her numbers were good but her platelet count is still high, and we are continuing to ween her off the prednisone and will go down a little more next week. Next week is her last weekly trip, and after that it will be every other week. Here she is right after we got home:
She's happy and prancing and just doing really, really well. Rosie came over and licked her and greeted her (even though in this pic it looks like she is just trying to dominate her, she was actually grooming her)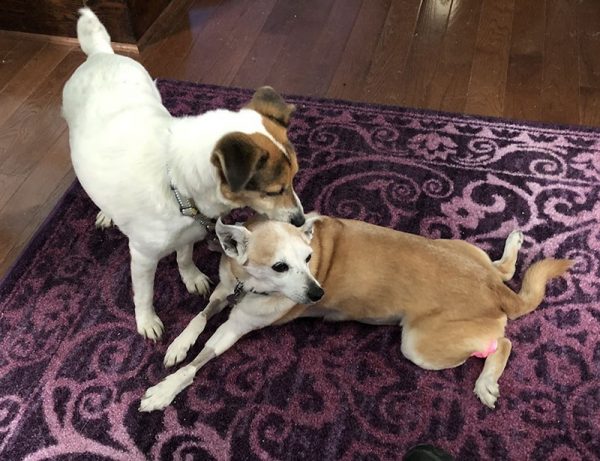 Now to address the elephant in the room- "What the fuck is going on in John Cole's front yard?" Long story short, the yard leveling has begun in earnest. The front yard did not need any additional dirt to level, instead we just plowed it all under with a rototiller and then used a leveling rake to even it all out. We've been getting a ton of rain, so we covered it to keep it somewhat dry and are seeding it tomorrow.
The back yard, on the other hand, is a god damned disaster.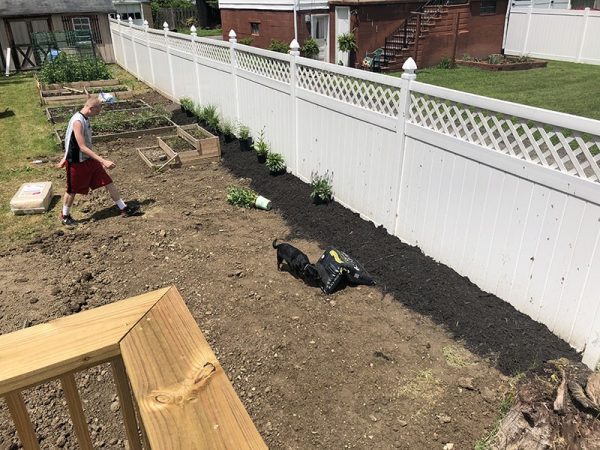 I got a local guy to bring 15 tons of "topsoil" over for 200 bucks, and he came over and dumped it outside my fence at seven o'clock in the morning, and when we looked at it, it was half top soil and half fill and clay. It was most certainly not screened topsoil. So we (this is a royal we) put it around and evened out the back yard near the deck and got rid of the major holes and the erosion and slope by the deck, and now we are going to have to till the whole damned thing to break up the clumps, and I will have to go somewhere else to get about 8-10 yards of actual screened topsoil, which I didn't want to do because it is expensive as hell.
Right now since there is so much clay and clumps, we're just letting it sit for a while and working on the beds around the fence, which we lifted to cover the bottom of the fence. I've got a bunch of hostas to take out of the front beds to put there, and I've got friends who are desperate to get rid of stuff like day lilies and the like.
Rule #1 in life- if you think you are getting a super deal, you are probably getting fucked.
Would you look how tall my peas and maters are, though? And the holes in the backyard are gone, so no one (mainly my clumsy half blind ass) is going to break their damned ankle taking the trash out. That's it for around here.
Also, fuck Trump.