On the Road is a weekday feature spotlighting reader photo submissions.
From the exotic to the familiar, whether you're traveling or in your own backyard, we would love to see the world through your eyes.
Good Morning All,
This weekday feature is for Juicers who are are on the road, traveling, or just want to share a little bit of their world via stories and pictures. So many of us rise each morning, eager for something beautiful, inspiring, amazing, subtle, of note, and our community delivers – a view into their world, whether they're far away or close to home – pictures with a story, with context, with meaning, sometimes just beauty. By concentrating travel updates and tips here, it's easier for all of us to keep up or find them later.
So please, speak up and share some of your adventures and travel news here, and submit your pictures using our speedy, secure form. You can submit up to 7 pictures at a time, with an overall description and one for each picture.
You can, of course, send an email with pictures if the form gives you trouble, or if you are trying to submit something special, like a zipped archive or a movie. If your pictures are already hosted online, then please email the links with your descriptions.
For each picture, it's best to provide your commenter screenname, description, where it was taken, and date. It's tough to keep everyone's email address and screenname straight, so don't assume that I remember it "from last time". More and more, the first photo before the fold will be from a commenter, so making it easy to locate the screenname when I've found a compelling photo is crucial.
Have a wonderful day, and enjoy the pictures!
For those in many states, please vote in your primary today so that the parties know you're active, engaged, and can be counted on in the fall. Knowing you voted in the primary is a strong indicator of future voting reliability and so that will mean less calls, door knocks, mail, etc. which preserves those resources for people who need them.
Of course I remember to say this because of primaries affect me, and I should have said this earlier, but I'll try to remember to say so for future primaries. Given the new Supreme Court foulness, it's ever-more-important to ensure the state sees you as an active voter so you're not swept off the rolls.
Today, pictures from valued commenter J R in WV.
First up, a re-post since it was added to his last set later in the day. Since so many asked to see his home, he was kind enough to send it in, and I'm quite happy to see it twice! Wowzers! I just love how it's nestled among the trees. Just wonderful.
House in the Forest

This is looking north at the south exposure of the house around which the boulders were photographed, along with wild flowers, pets, etc. The hillsides are steeper than they look, esp on the left (west) side of the house. Built in 1991-94 by friends and neighbors mostly, who did a better and more professional job than the actual contractors for specific jobs.

f/5.0 for 1/500th sec at 27mm taken with a Nikon D70s on April 6, 2008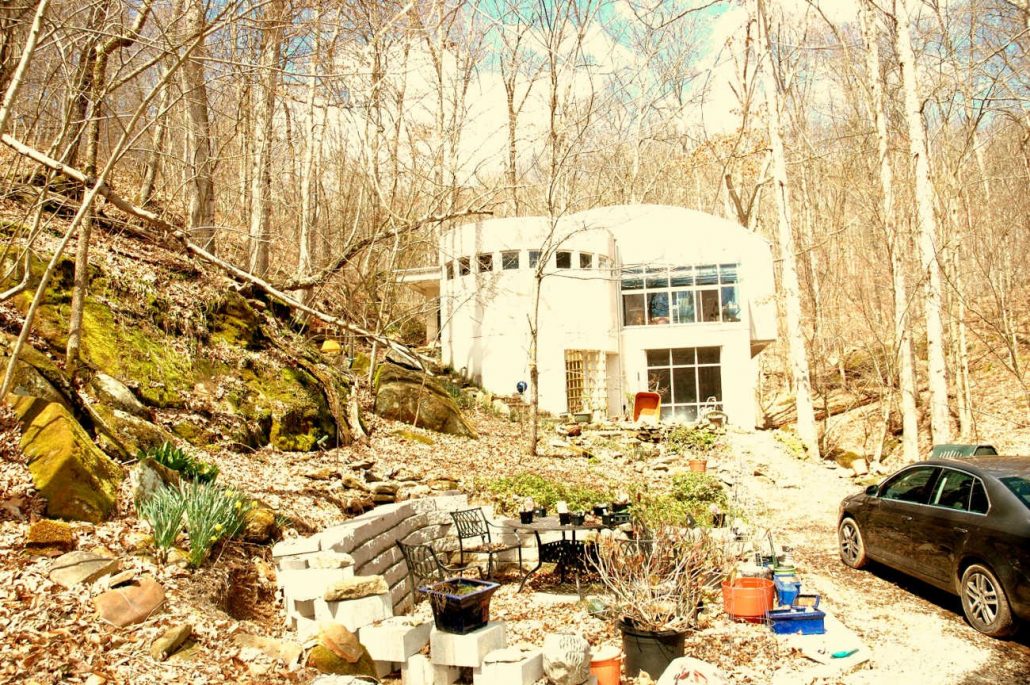 These are some pictures of the animals on the farm, Don't get excited, it's just cats and dogs!

Actually only one of each, the black cat is really hard to photograph, but I'll find some good historic pics of her. The white dog is so active I didn't get any of her that weren't just a white blur! They're cute too, tho.

We love our critters, all of them.

Happy dog At Attention

Taken on 2018-04-19

Our "front yard"

She's a lab golden mix adopted from our vet clinic, where she was in residence for 9 months being treated for heartworm infestation. She was kept on a chain in a backyard, alternately neglected and abused, and was taken off the chain by an anonymous client of the clinic. We adopted her when she was deemed healed by our wonderful vets, who charged nothing for her post emancipation health care. She's believed to be 13 now, and is still quite active on the forested hillsides. Isn't she a pretty dog!!

f/4.0 for 1/125 sec. 315mm
Happy at Rest

Taken on 2018-04-19

Kitchen floor

Of course after running outside and climbing on the rocks, every good puppy needs a nap, on the kitchen floor in front of the stove.

f/3.9 for 1/60 sec. 164mm…iso 1600
Spike at Attention

Taken on 2018-04-19

Front steps outside the house.

This is one SHARP kitty! 10 year old Spike was so named because she is a shoulder cat who likes to hold on. OW! She's very affectionate, and not so desperate to hold on nowadays. Stays outside when the weather is good, very good predator on rodents, doesn't care for birds, feathers evidently have terrible mouth feel.

f/3.6 for 1/250 sec. at 67mm iso 125
Spike Relaxed

Taken on 2018-04-19

Same step, or close to it.

Same cat, different moment.

f/3,6 1/200 sec at 69mm
Spike Boxed for Shipment

Taken on 2018-05-17

Kitchen hall

Not really, but she does love a box, but her favorite is a laundry basket, where she can see out, and lay in fresh warm clothes.

f/4.0 for 1/6th sec at 221 mm. iso 3200
Thank you so much J R in WV, do send us more when you can.
Travel safely everybody, and do share some stories in the comments, even if you're joining the conversation late. Many folks confide that they go back and read old threads, one reason these are available on the Quick Links menu.
One again, to submit pictures: Use the Form or Send an Email