Just got back from our weekly chemo, and it was a long one today. There were lots of emergencies with animals that took precedence over a routine treatment, so instead of a four hour trip it took us six hours. Long story short, everything is doing well with Lily, she gained another half lb, all her bloodwork was good, and we're down to a quarter tablet of prednisone a day and a quarter tab of plavix.
While it took a long time, it was not that terrible because it was (and still is) such a gorgeous day. It's the first time in weeks where there were no clouds in the sky, and it is a comfortable 80 degrees with (for WV) very little humidity. When I woke up this morning and went outside, I was hit with a wall of smells- everything is blooming at once, and all you can smell anywhere in my littler area of the world is honeysuckle and sweet blooming everything. I swear I smelled some lilac, but it is kind of late for that, I thought. It was so strong I called my dad- "Have you been outside? Am I having a stroke or is the air thick with a floral scent?" He assured me that I am not having a stroke and that he planted some gladiola bulbs three days ago and there are already shoots.
At any rate, it was so nice that after I dropped Lily off, I went to Trader Joe's, which I know a lot of people just swear by and I like, but I am consistently underwhelmed by it. Regardless, I picked up some of those sesame crackers I adore and I got a container of cauliflower tabbouleh that was AMAZING.
I wish I could describe just how lush and green everything is for all you folks in cities and out west, but I guess pictures will have to do. If I had to describe it I would say it is what everyone thinks Ireland looks like or maybe I would say it looks like video game jungle green- it's that green! Here are some pics from the ride home: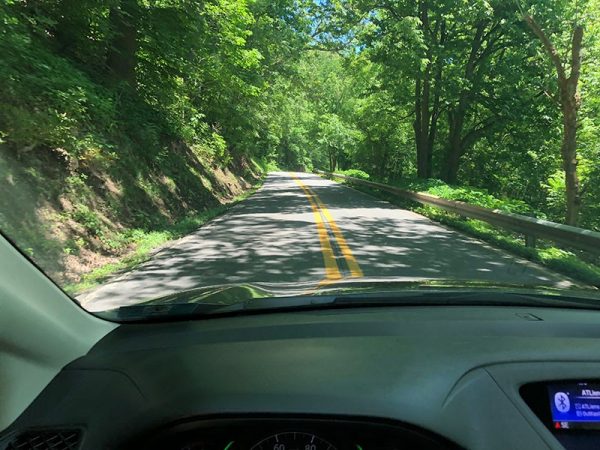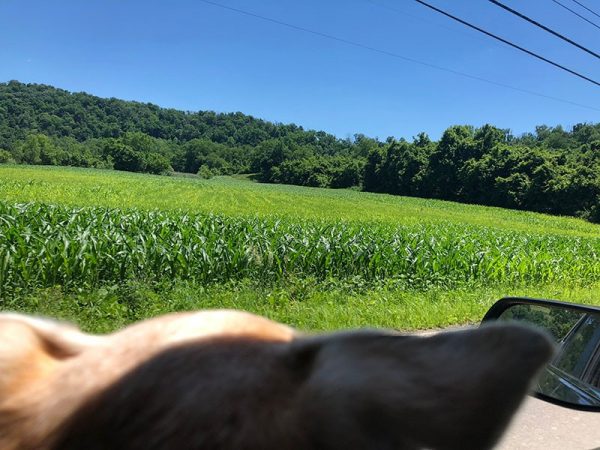 Since I know my audience, let me say some things before you go nitpicking ballistic in the comments. I the first picture, I was going 3 mph when I took the picture and no one was behind me so, no, I was not being unsafe in the middle of the road. This is WV. I could have stopped and taken a piss in the middle of the road and likely not seen anyone. And for the exceptionally curious, I was listening to OutKast ATLiens. In the second picture, yes, I am aware dogs should not ride with their heads out the window and that airbags can kill a dog but she only rides like that when we are on rural roads going very slow and also she has cancer so we'll just roll the fucking dice and live a little. So don't even start with me. Also, in the second picture, that's one of the corn plots for a local farm and it has grown a full foot in just the last week.
Finally a shot of our girl, happy to be home and strutting her stuff after helping to water the lawn: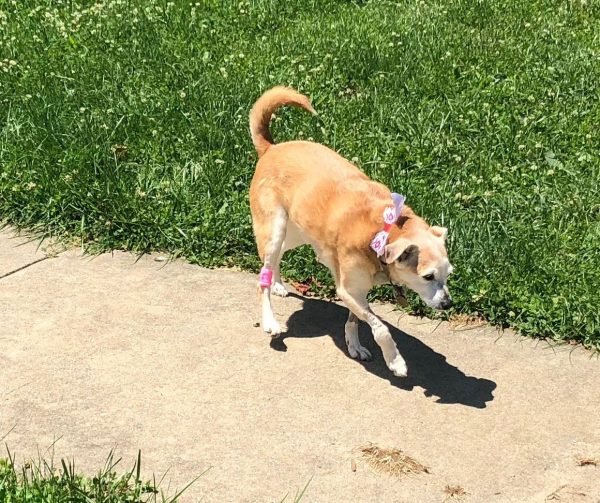 Finally, check out the grass we planted last week: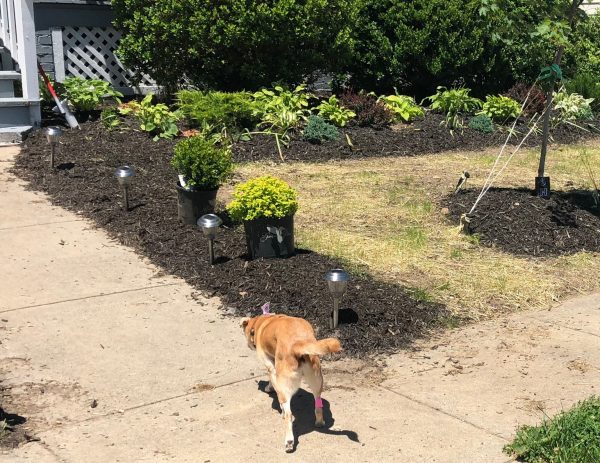 Tomorrow afternoon and Saturday we are planting the shrubbery, digging half the hostas and transplanting them out back, tilling the back yard, and hopefully putting down the top soil and then seeding it.
Ok, there was your break and Lily update, back to our regularly scheduled dystopic Trumpian horror show.