WOW — Trump says he wants American people to treat him like North Koreans treat totalitarian dictator Kim Jong Un.

"Hey, he's the head of a country, and he's the strong head — he speaks and his people sit up at attention. I want my people to do the same." pic.twitter.com/A43xYXsFod

— Aaron Rupar (@atrupar) June 15, 2018
i've said this before, but trump has no understanding of or admiration for democracy or self-governance. he worships power and admires strongmen. he praises dictators and authoritarians because he's *jealous* of them. they can compel the worship he thinks he deserves. https://t.co/lSiO8I2G2f

— b-boy bouiebaisse (@jbouie) June 15, 2018
Cover of ?@TheEconomist? pic.twitter.com/bJcX1BV7U8

— Hadas Gold (@Hadas_Gold) June 14, 2018
Reporter: "The president said it will be verified."

Pompeo: "Of course it will."

Q: "Can you tell us a little bit more about–what is, what discussed about how?"

Pompeo: "Just so you know, you could ask me this, I find that question insulting & ridiculous & frankly ludicrous."

— Peter Baker (@peterbakernyt) June 13, 2018
Asked to reconcile his assertion that Kim Jong Un loves his people with Kim's practice of killing his people, President Trump says, "I can't speak to that." pic.twitter.com/EcapwwdNgI

— NBC News (@NBCNews) June 15, 2018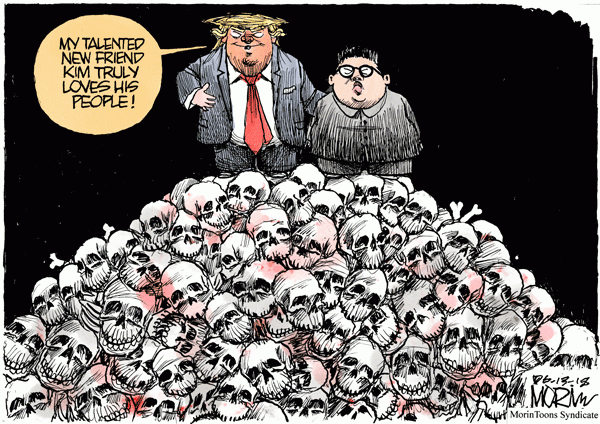 What does the Trump-Kim summit mean? Not a damn thing. https://t.co/RO9cUFSIoN

— Daniel W. Drezner (@dandrezner) June 13, 2018
… Over the long run, Singapore changed none of the fundamentals of the situation. North Korea still has a track record of agreeing to things and then reneging on its agreements. So, for that matter, does Donald Trump. It seems extremely unlikely that a regime that believes its security is intertwined with its nuclear capabilities will surrender them. It seems even more unlikely that hawks such as national security adviser John Bolton are going to roll over and not try to provoke Pyongyang again. Most important, there is no evidence that the fundamental policy preferences of the key actors (North Korea, China, the United States) have changed on this issue.

That said, the primary reason the long-term odds have not changed is because those odds were not as high as everyone thought six months ago (myself included). Back in January, Michael Horowitz and Elizabeth Saunders concluded that structural factors (capabilities, geography) limit the likelihood of armed conflict. None of those factors has changed after the summit, either.

The Singapore summit produced great theatrics. Beyond that, everything that was said in Singapore could be easily revocable. So embrace the season of conciliatory rhetoric between president Trump and Kim Jong Un. Just realize that even if the rhetoric begins to curdle, the fundamental situation will not have changed all that much.
.@POTUS says he gave Kim Jong Un his direct phone number

— Saagar Enjeti (@esaagar) June 15, 2018
"I can now call him. I can now say, "Well, we have a problem." I told him — I gave him a very direct number. He can now call me if he has any difficulty. I can call him. We have communication. It's a very good thing.

— Saagar Enjeti (@esaagar) June 15, 2018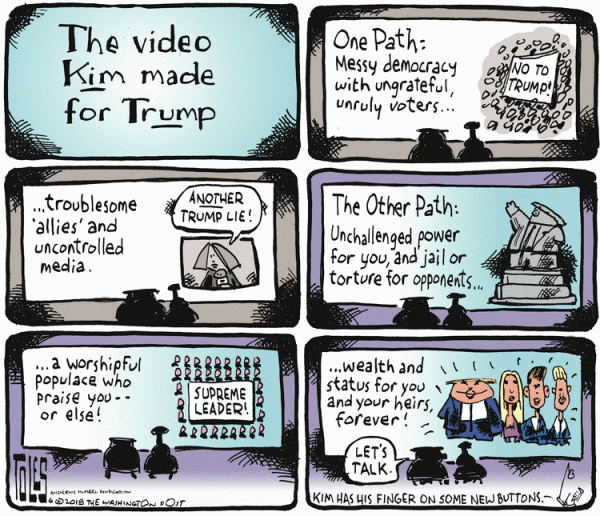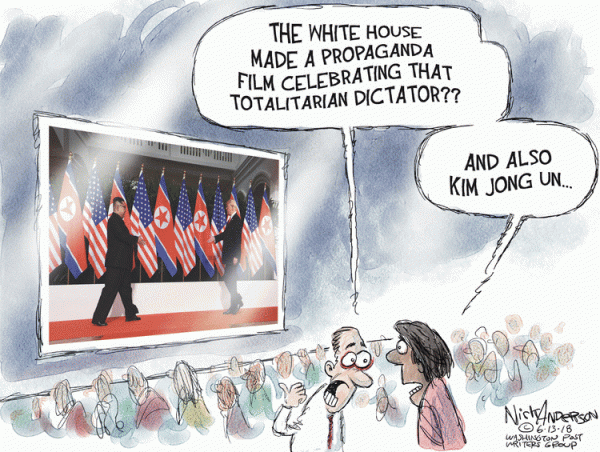 Humiliating, stupid, inappropriate, a breach of protocol, and also, a little boy's ignorant fascination with uniforms. https://t.co/o1PodmeaFB

— Tom Nichols (@RadioFreeTom) June 14, 2018
North Korea, a few months ago:

Juche propaganda minister: "I think I can get a Trump look alike for a new video."

Kim Jong-Un, watching the POTUS freestyle nonsense on Fox & Friends: "I have a better idea."

— Schooley (@Rschooley) June 14, 2018
Frank Rich, former theater critic, at NYMag, yesterday:
… What is going to dawn on Trump now is that in television terms the summit was only a limited series while the Mueller inquiry, and its many attendant subplots, is an open-ended series with no season finale yet in view. Trump has already milked the Kim story for all that he could. Now that the summit is over, he can no longer create artificial suspense by threatening to cancel it or suggesting he might walk out if Kim wasn't to his liking. He can no longer bask in its photo ops. He can no longer brag about his ability to take the measure of a new acquaintance in less than a minute…

… Trump gave up all his cards in Singapore, and not only does he have no national security achievements to show for it, but he will soon have no selfish political gains to show for it either. North Korea will vanish into the ever-churning news-cycle ether by next week. Its fading memory will not derail the scandals at home, and will not be a factor in the midterms. Americans don't cast their votes on foreign-policy issues short of cataclysms like long-running, blood-drenched quagmires in Vietnam and Iraq.

This won't stop Trump from repeatedly trying to hawk the summit as a great achievement in world peace. He values a Nobel almost as much as an Emmy. Still, for all the throwing around of the word historic this week, what's most historic about the event is how closely it seems to emulate Munich. Upon returning to England from his meeting with Hitler in September 1938, the British prime minister Neville Chamberlain used triumphant language much like that we find in Trump's Twitter feed today. "This morning I had another talk with the German Chancellor, Herr Hitler, and here is the paper which bears his name upon it as well as mine …[It is] symbolic of the desire of our two peoples never to go to war with one another again … I believe it is peace for our time." Hitler invaded Poland six months later…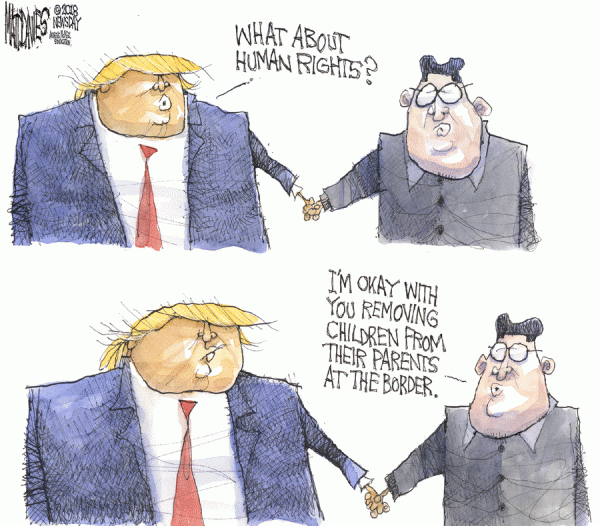 Trump enablers: Now is the time to try to recover a shred of your dignity by criticizing this
GOP Congress members: do your constitutional duty and object to this
Previous Trump voters: vote Dem to stop this
Trump supporters: No one expects anything of you. Carry on. https://t.co/CUCBkpsvFZ

— Tom Nichols (@RadioFreeTom) June 15, 2018