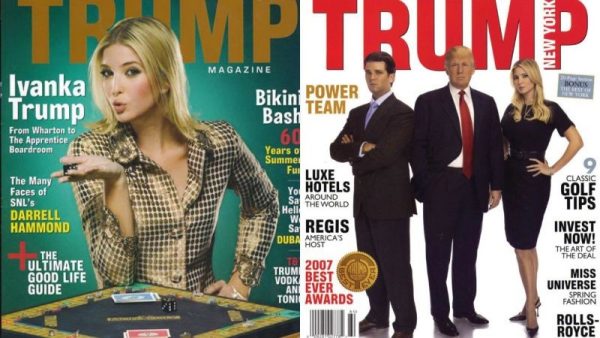 Trump Casinos.
Trump Steaks.
Trump Airlines.
Trump Vodka.
Trump Mortgage.
Trump Magazine.
Trump Ice.
Trump University.
What do all of these Trump-branded things all have in common? They all went belly up. Kaput. Deceased. Bereft of life, they've joined the bleedin' choir invisible.
If tens of millions of our fellow citizens weren't such goddamned idiots, this record of scammy failures would have vaporized Trump's "successful businessman" image, which seems to be the only thing Trump has expended a lot of effort to build. But, people are dumb and gullible, especially when reality collides with a carefully cultivated TV image, so here we are.
But 18 or so months into this dystopian hellscape, there's just no excuse for a seasoned political analyst to express faith in another fraudulent Trump brand: the alleged moderating influence of Ivanka Trump. Yet Karen Tumulty does just that in a Post opinion column:
Melania Trump weighs in on her husband's cruel policy. Where are you, Ivanka?

The first lady's decision to step into the debate makes the silence of another Trump family member all the more telling. Where is Ivanka Trump, who is actually an official adviser to her father — and the one who claims that family issues are her portfolio?

All those photos of crying children don't look so great on Instagram. Still, Ivanka, there is time to step up. You can do it. Be best.
Seriously? Give me a fucking break.
Now, as I said a couple of days ago, I think the Trump people have trod on their own dicks by going all-in on child-snatching. The practice is so morally repugnant that even reliable toadies like Franklin Graham publicly object to the policy, and Trump's usual lie-and-deflect strategy doesn't seem to be resonating outside the Fox News bubble.
Meanwhile, the images of crying parents and brown kids in cages have generated such enthusiasm in Trump's white supremacist base that it will be difficult to walk the policy back without angering the most devoted cultists. It's possible the abnormal brain trust in the White House is discussing a face-saving climb-down this very moment, possibly even one involving Ivanka.
But even if Sarah Huckabee-Sanders trots Ivanka Trump out at today's news briefing to announce an end to the old man's child kidnappings (spoiler: not gonna happen — Shitler is doubling down on Twitter right now), it would be yet another scam. Ivanka's supposed influence on her monstrous father is just another Trump-branded fraud, and anyone who seriously looks to that empty-headed non-entity for moral leadership is a moron.