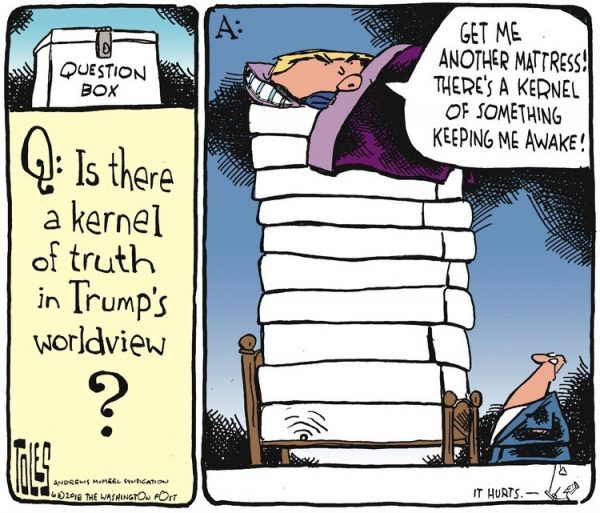 Former NYT ombudsman Margaret Sullivan is predictably dubious that such a policy could be implemented under the current system, but kudos to her for headlining it anyways. From her current employer, the Washington Post:
Last week was a particularly rough one for journalists and truth-seeking citizens.

President Trump declared the news media the nation's worst enemy. And time after shocking time, his acolytes demeaned or threatened reporters for doing one of their most basic jobs: asking questions of those in power…

And the president's anti-media campaign is convincing at least some citizens that journalists have no worth.

Enter George Lakoff. An author, cognitive scientist and linguist who has long studied how propaganda works, he believes it's long past time for the reality-based news media to stop kowtowing to the emperor…

Unlike those who insist that what the president says is news and therefore must be reported, Lakoff proposes a radical reimagining of how the news media reports on Trump.

Instead of treating the president's every tweet and utterance — true or false — as newsworthy (and then perhaps fact-checking it later), Lakoff urges the use of what he calls a "truth sandwich."

First, he says, get as close to the overall, big-picture truth as possible right away. (Thus the gist of the Trump-in-Singapore story: Little of substance was accomplished in the summit with North Korean leader Kim Jong Un, despite the pageantry.) Then report what Trump is claiming about it: achievement of world peace. And then, in the same story or broadcast, fact-check his claims.

That's the truth sandwich — reality, spin, reality — all in one tasty, democracy-nourishing meal.

Avoid retelling the lies. Avoid putting them in headlines, leads or tweets, he says. Because it is that very amplification that gives them power.

That's how propaganda works on the brain: through repetition, even when part of that repetition is fact-checking…

Lakoff is not the only one who has suggested radical changes in how the news media conducts itself in the Trump era.

Jay Rosen of New York University sums up one such proposal in three words: "Send the interns."

White House briefings, since the very beginning of Sean Spicer's efforts to defend the indefensible about the size of Trump's inauguration crowd, are no place for talented, highly compensated reporters to spend their time and energy…

So, Rosen says, go ahead and continue to staff these briefings. But send the interns…
The White House already treats reporters like unruly adolescents — I'd kinda enjoy seeing them face a roomful of actual Youngs with media. If only because it'd be highly entertaining to watch Huckabee-Sanders or Kellyanne Conway's face as they realized they'd been relegated to the scrub team!