Fear not, we might be reaching the end of this horrible policy of separating families seeking asylum at the border, because inspirational leader Ben Sasse has introduced a strong bill in the Senate um introduced a Senate Resolution condemning the policy my bad I mean issued a strongly worded public statement written a tepid facebook post:
1) Family separation is wicked. It is harmful to kids and absolutely should NOT be the default U.S. policy. Americans are better than this.

2) This bad new policy is a reaction against a bad old policy. The old policy was "catch-and-release." Under catch-and-release, if someone made it to the border and claimed asylum (whether true or not, and most of the time it wasn't true), they were released into the U.S. until a future hearing date. Many folks obviously don't show up at these hearings, so this became a new pathway into the U.S.
And blah blah blah he's not going to do shit about it but wants people to separate himself from the monsters, which he can't because by doing nothing he's FUCKING ONE OF THEM. Even the god damned language we use is dehumanizing- "catch and release." These are people, not an undersized fucking trout, you assholes. At any rate, there's a reason Republican's won't do anything or sign on to the Democratic bill that has 40 something cosponsors. It's who they fucking are: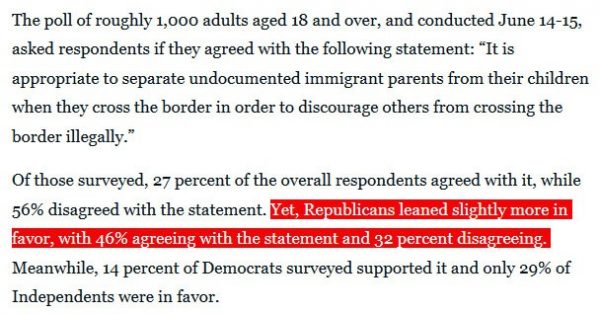 This nonsense about there being some sort of true conservatism and Republican party separate from Cheeto Benito is insane. This is who the Republican party is. A bunch of real life monsters.
Also note the regrettably predictable appearance of the crazification factor. Thirteen years old and still holding strong. Peak wingnut, on the other hand, had it not been strangled in the crib a mere few hours later, would be ten years old.