God knows there are more serious problems in the world, but as an American who still retains fondness for our national colors, I must speak out on the ongoing molestation of the American flag by one Donald J. Trump. He's been creeping up on Old Glory since well before the election and putting his hot, sticky, undersized mitts on the red, white and blue in a distressingly sexualized manner. Here's a still photo depicting a creepy assault on the flag at a Florida campaign stop: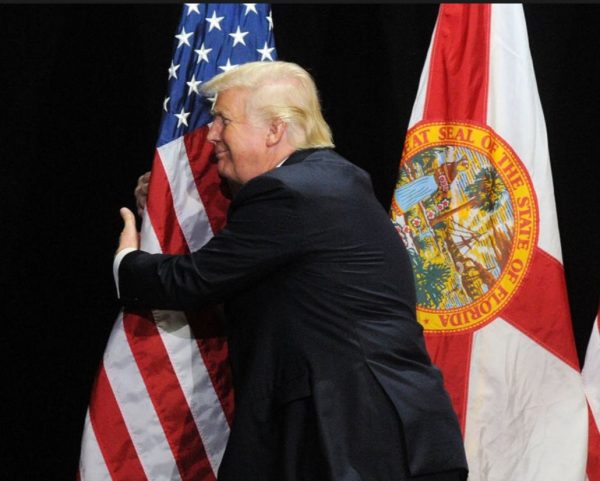 And here he is getting grotesquely handsy with Betsy Ross's handiwork at another campaign event. What in the wide world of fuck is that all about? Look at the perverted smirk on the villain!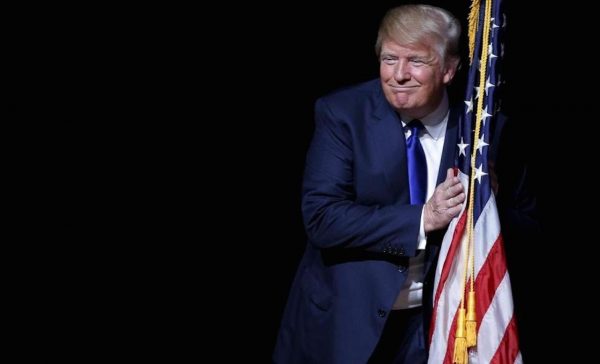 But today's assault on an innocent flag took the weirdness to a whole new level:
Pres. Trump hugged an American flag at the conclusion of his remarks to the National Federation of Independent Business, during which he aggressively defended his administration's immigration enforcement policies. https://t.co/kNXigzk6H4 pic.twitter.com/cJil7GuZkf

— ABC News (@ABC) June 19, 2018
I know it's painful to subject oneself to Trump's hideous visage, but watch the GIF to the end. He's humping the goddamned flag like a horny chihuahua sexually assaulting someone's leg. It's disturbing and gross, and someone should stop him from ever doing that again.
Open thread.