So, this is happened a short while ago:
WATCH LIVE: President Trump is making new comments on immigration with "Angel families" — families affected by crimes committed by undocumented immigrants https://t.co/aK4R8XyxD8 pic.twitter.com/rs1C0BNzlB

— CBS News (@CBSNews) June 22, 2018
Check out that chyron! The White House staged this event solely so Trump could exploit the grief of the people on that stage to foment fear and hatred against an entire class of people whose overall crime rate is lower than that of native-born U.S. citizens. You won't be surprised to learn he lied his ass off, painting a picture of marauding brown hordes pouring across the border to menace innocent Americans.
Trump has been doing this since the campaign, and it's always been slanderous and hateful. But now Trump is cranking up the demagoguery. He's lashing out in response to the "baby jails" debacle and setting the stage for the midterms. He knows his base responds to xenophobia and racism, so he'll keep escalating as the election approaches.
The "Angel families" designation is catching on beyond the White House communications shop and Fox News. That's not good. I sympathize with the folks Trump is using — they've suffered a grievous loss. But so did the families of the innocent people murdered with an AR-15 by a white gun nut from Nevada. The designation "Angel families" is not a harmless honorific; it's designed to demonize immigrants.
Today, the Trump administration slanders undocumented immigrants. It's a short step to drop the "undocumented" part. And eventually, they may even name the group they really want to exclude and demonize: non-white "others." That's how it works.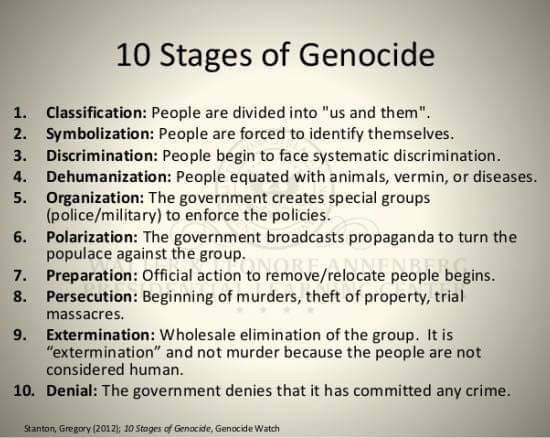 If, FSM forbid, Trumpism wins, I don't know that we'll have full-scale ethnic cleansing in the United States. But it's not like we haven't been down that road before — we have.
People have already died as a result of Trump's anti-immigration demagoguery. It's easy to dismiss incidents like the killing of the Indian engineer in Kansas as a hate crime by a deranged person, but then we have the president demonizing undocumented immigrants at the White House today, using eliminationist rhetoric like "infesting" on Twitter while giving orders to the military to prepare to intern 20K migrant children on American soil.
It can definitely happen here. It's up to us to stop it, and one thing we can all do is to push back against rhetoric that makes demonizing a class of people easier. It's a small thing. But at the same time, it's not a small thing at all.