I wound up at the Vet's early this AM because both my four foots got sick last night. The older lab mix's GI system goes wonky once or twice a year. No big deal – boiled chicken and rice and she's normally good to go. Unfortunately, that wasn't really working this time and after taking her out last night every 45 minutes or so, the younger lab mix decided she wanted in. And for her opening act: PROJECTILE VOMITING!!!!! This was also her second, third, fourth, and fifth act over the next hour. The good news is I have tile or bamboo floors. The bad news is I had steam mopped them yesterday afternoon…
They both survived the night. I got no sleep. Called the Vet's as soon as they opened and was in the waiting room 15 minutes later. They worked us in within the hour. A history of what's been going on, or rather out and coming up, since Thursday, an exam, two shots a piece, some follow up pills, and a bill later and the girls are resting comfortably.
Anyhow in the Vet's waiting room were two different sets of kittens they've got for adoption. And, of course, the Veterinary practice's large, orange swirl sherbet colored Maine coon. Because I was close to tapping out from exhaustion and needed to handle my girls, I couldn't get too close to the kittens, but I did manage to snap a couple of pictures. And since we're overdue for a new thread and since I'm completely exhausted and not going to do anything substantial, here they are.
First up what looks to be three wildcat or wildcat/Main coon mix kittens. Since I couldn't get too close, and only had my iPhone with me (so I've tweaked the sharpness, etc a bit so you can get a better look), you can't really see it, but they have both the spots on their foreheads and the "M" marking. They also have horizontal stripes ringing their legs and tails. From left to right – one is sort of the color of a conch shell – not pink, not orange, not coral, not peach – just sort of a mix. The other two are different shades of gray.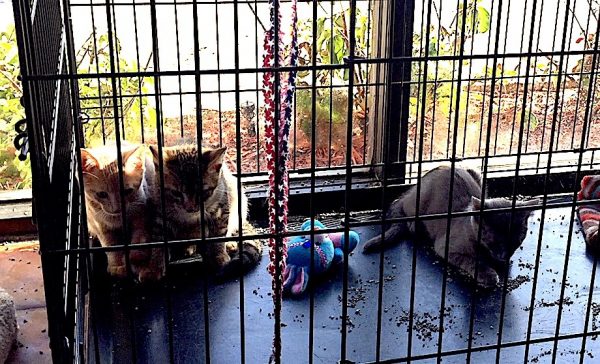 The two other kittens were both black. This was, I think, the only time they were not moving around and playing the entire time I was sitting there.
And this is the clinic's cat: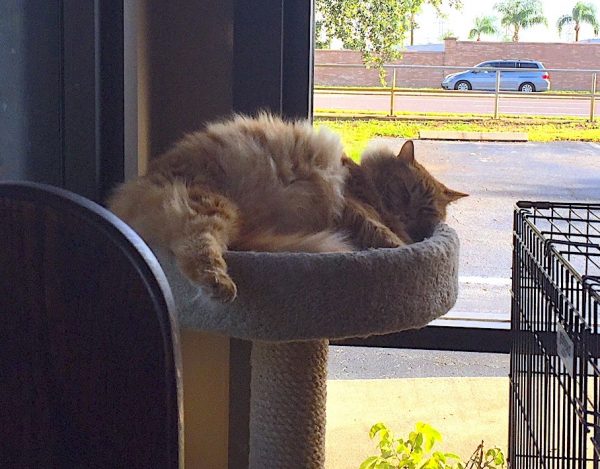 Stay fluffy!
Open thread.