I was curious. What does $100 more in deductible buy in terms of actuarial value?
It depends but the short answer is not much.
The graph below shows how much a $100 increase in deductible buys in terms of actuarial value. I used the 2019 CMS AV calculator with the Bronze tables. Deductible is combined and embedded with no other cost sharing. This is a bare bones plan.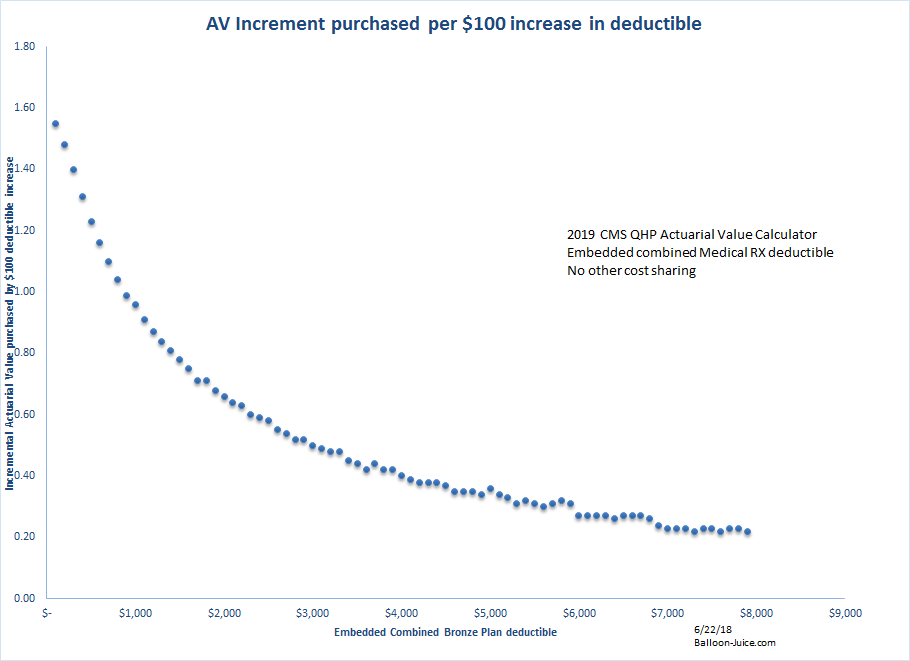 This is because health care costs are so skewed to the right. Half of the population barely touches the system so the first $100 of deductible captures most of their health care spending and the first $500 of deductible is almost entirely their annual spend. The declining marginal purchase of AV per $100 spent on deductible is real and big.
By the time the deductible is going from $3,000 to $3,100, very few people are actually running up charges to that level. It buys half a point of actuarial value for this jump. By the time the last $100 is added to deductible for the skinniest plan possible with a $7,900 out of pocket maximum, the AV bought is .22 points.
The trade-off to buy an extra AV point at the tail end of the distribution is an extra $400 to $500 in deductible. This implies that a Copper plan with a 50% AV could probably see a $12,000 to $13,000 deductible.