The devil, he has a plan:
Experts say the immense rains — some spawned by tropical ocean waters, others by once-routine thunderstorms — are the product of long-rising air temperatures and an increase in the sheer size of the storms. Because warmer air can hold more water, large storms are dropping far more rain at a faster clip.

Such rains in recent weeks have deluged the Great Lakes region, the Deep South and the suburbs of major cities along the Atlantic coast. Philadelphia, Charlottesville, and Ocean City, Ellicott City and Frederick in Maryland all have experienced major flooding since mid-May. Several locations in Maryland had their wettest May on record, including Baltimore, which tallied more than eight inches, most of which fell in the second half of the month.

"Things are definitely getting more extreme," said Andreas ­Prein, an atmospheric scientist at the National Center for Atmospheric Research in Boulder, Colo. "You just have to look at the records. All areas of the continental U.S. have seen increases in peak rainfall rates in the past 50 years. . . . And there is a chance that we are underestimating the risk, actually."
Check out this map: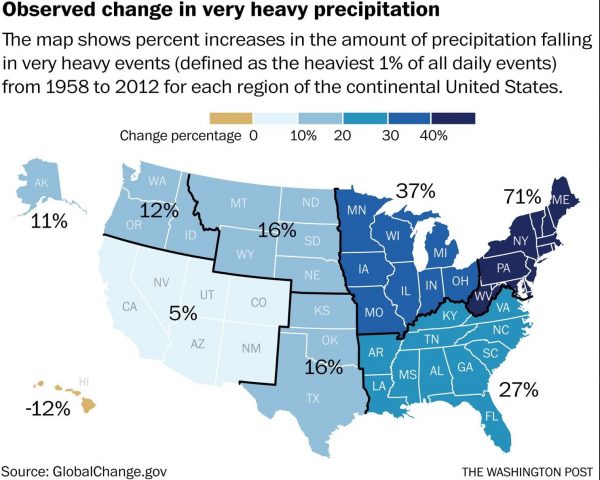 I know I have been talking over and over again for several years about how my area of West Virginia has turned into basically a tropical rain forest. When I was a kid, we had great thunderstorms with lots of rolling thunder and big bursts of lightning. But what we didn't have was the skies just opening up and dumping inches of water in a few minutes. It's just nuts how much and how often it rains here- so much so that I am now putting a rain garden in the back yard because this isn't going to be changing anytime soon, and there really is no other option.
The other thing that is crazy is how the rains, along with some strategic blundering by the state and simply allowing fracking trucks to destroy roads that are not really rate for big rigs is going to be a disaster for years to come. West Virginia DOH, in their infinite wisdom, spent several decades basically spraying agent orange or other defoliants on the sides of the roads to the point that organic farms had to put signs up near their property basically telling them to not fucking spray that nasty shit near them.
Presumably this was cheaper than just cutting back the growth as had been done throughout history, or more probably the petrochemical companies like DOW that run Charleston had lobbied for a sweet contract. Who knows? The end result was that all the deep vined growth and long term vegetation that had been there for hundreds of years, including things like blackberries, huckleberries, etc., that locals loved to pick, were just wiped out. Things would grow back, but it was basically just rapid growing grasses and weeds, not anything that would provide structural support.
So you all know what happened next, right? Yep. Without anything to hold the hillsides and berms in place, large amounts of rain just wash them away into the roads, filling the gullies. This, in and of itself is bad enough, but when this happens a couple times, it erodes the hillsides to the point that it exposes tree roots, and in short order we got to the situation we are in now, in that every time it rains several trees fall into the middle of the road.
Add to this what the trucks are doing and you can see what a current crisis and impending larger disaster we have. West Virginia roads are narrow. Fracking trucks and big rigs are wide and heavy, so their massive tires, bearing heavy loads of water, residual waste, construction supplies, etc., chew up the outside portion of the road, crumbling the asphalt and eroding the road into the gullies in between the former berms. So when a rapid rainfall hits us, large portions of the road, now unstable from being pulverized by trucks, just washes away. I've shown you pictures in the past where large sections of road simply no longer exist. A portion of Rt. 67 from Bethany to Wellsburg is now one lane, because the other lane is but a memory.
And it isn't going to get any better, and there isn't going to be any money to fix it because we refuse to tax our resource extractors and the teahadist Republicans in the WV legislatures are all slaves to tax cut jeebus.