Over the last 24 hours since Justice Kennedy announced his retirement, a popular form of political fan fiction has sprung up and is racing across the intertubes. Here's an example: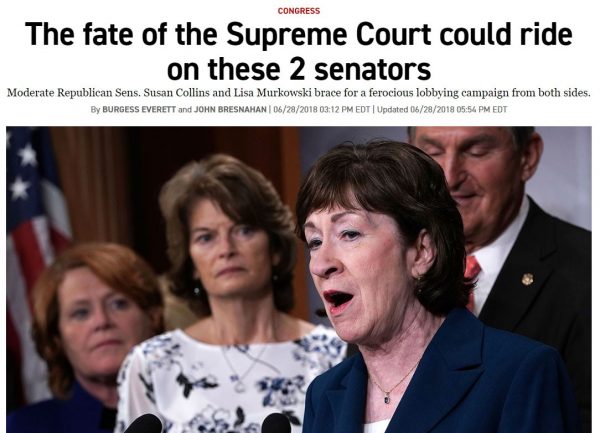 Narrator Voice: "It doesn't."
Murkowski, Collins, Capito- they might all say they support Roe, but none of them are going to need an abortion any time soon and that's just shit they say to give them a thin veneer of moderation. I mean, it works enough to fool Chris Cilizza and other idiots in the media, but if they gave a flying fuck about abortion rights they'd have voted against Gorsuch. They didn't. They'd have voted against Alito. They didn't.
But what about Jeff Flake, who has already been stalling judicial nominees over tariffs? Maybe this is his time, people speculated. Maybe he and McCain will finally have the courage of their convictions?
How about no?
"My goal here is not to block judges. My goal is to get a vote on tariffs, and I have all the leverage I need with circuit court nominees," he said. The Supreme Court "is unaffected. I have all the leverage I need. I certainly wasn't anticipating a Supreme Court vacancy, but it's unaffected."
Has there ever been a US Senator with a more apt name?
But, but, the Democrats can fight. And stand together. And not give in. And really stick together and not give in and fight.
A.) They won't. Heitkamp or Manchin or one of the blue dogs will vote with Trump, nullifying any Republican holdouts (of which there won't be any, anyway).
B.) Even if they did stick together, they are in the minority, AND THERE IS NOTHING THEY CAN DO.
The simple fact of the matter is we are WELL AND TRULY FUCKED and THERE IS NOTHING THAT CAN BE DONE. The damage to the country caused by the Supreme Court appointees will not be even addressed most likely until long after you and I are dead. This is going to take generations to undo. As will all the rest of the crap being done under Trump. The gutting of the EPA and State and virtually every other agency is not something that can just be fixed overnight if a Democrat wins in December. Expertise and experience don't grow on trees.
So basically, all the good shit you like about this country? You might as well pretend it does not exist anymore. IN at least half the states in the country, abortion is going to be illegal. LGBTQ rights will be removed. As we saw in NIFLA v. Becarra, some religious groups (WHITE CHRISTOFACISTS) will have extra free speech privileges and protections. And on an on.
It's fucking gone and there ain't nothing you can do about it in the short term. With the greenlight from SCOTUS this week, we should expect a full on assault on voting rights, expect unions to be killed off in short order, and christ it's so depressing I'm done listing shit BUT IT IS ALL FUCKING GONE.
The only solution is long term. And that means we need to act accordingly, and expect setbacks and failures, and not expect things to be fixed overnight. Hell yes, you should still be in the streets protesting. Yes, you should be calling, writing, emailing your congressman. But most of all, what you need to do is vote. In every election. This shit needs to be rebuilt from the ground up. And it is going to take a long, long, time. States won't purge their voter rolls or gerrymander their districts if the legislature and the Governor are in the right hands.
There is no quick fix. There is no fucking savior. There is no fucking Santa Claus. All you have is each other, a righteous anger, and for now, the vote. Use it. Deal with the current reality, but don't give up. Never give up. Make the motherfuckers kill you. But don't give them an inch.