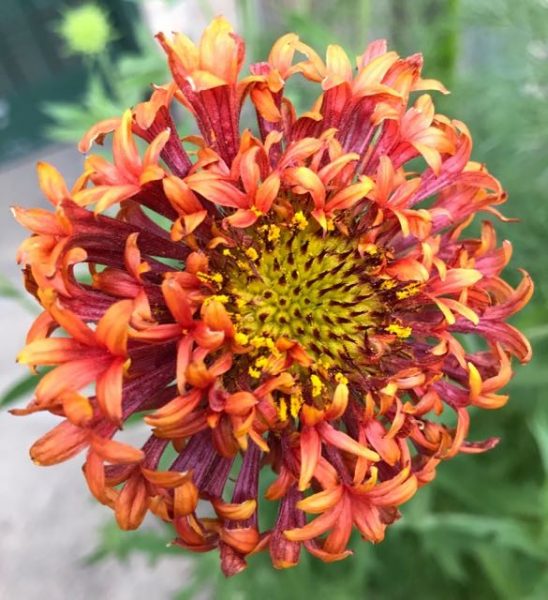 From "long time reader… infrequent commenter" Misamericanthrope:
I have in the past offered up a report at the end of the season, but with the dark days that we are experiencing now, I feel the need to share some garden pics. Helps to keep me sane!

This batch of photos will be primarily close-ups of early Summer progress. I'll be sure to send an update with vista views at the end of the season.

First up are some Lorenziana blooms. Lorenziana is a type of Gaillardia, also known as "Blanket Flower". Got it as a freebie in a seed order so decided to give it a try. The foliage is particularly weedy, so I was initially disappointed, but now that the blooms are taking off, I am quite happy with them. They would probably be best situated in the middle or the back of a bed with a shorter plant in front to hide the not-very-pretty foliage.

Next up is a Salpiglossis "Kew Blue". They are just beginning their bloom cycle. Behind them in this photo is a "Green Mist" Laceflower. No blooms yet on them, but their lacy foliage is already a welcome addition.

Over-wintered this "Campfire" Coleus and took a fresh cutting to plant outdoors. It's booming and the color seems to intensify daily.

My Clematis that I planted last year is finally producing a solid bloom yield. This variety is unfortunately called "Mr. President". Ugh.
This is the first of two parts — next week (or maybe Wednesday, if there's not too much news), photos from Misamericanthrope's shade garden!
***********
It's been a screwy year here north of Boston. Between hard frosts lasting well into April, followed immediately by midsummer-like temps in May, the local garden chains didn't have any of the usual early-spring bedding pansies I adore. And in the mid-May rush to get my mail-order tomatoes transplanted, I seem to have missed the window for the annuals I count on for quick color. We did find some (well-grown, heinously expensive) lobelia, but I'm gonna have to experiment with new-to-me plants so the boxes and spaces at the front of my flower beds don't sit empty…
What's going on in your garden(s), this week?