Lily and I just got home from the vet, and the doctor is very pleased with her results, all the numbers are where they should be, she is back up finally to 18.5 lbs, her platelet count is still a touch high but dropping and we are now down to a 1/4 pill every other day of prednisone and will be done with it totally in two weeks, and they said she was playful and perkier than normal. Our customary post chemo front yard picture: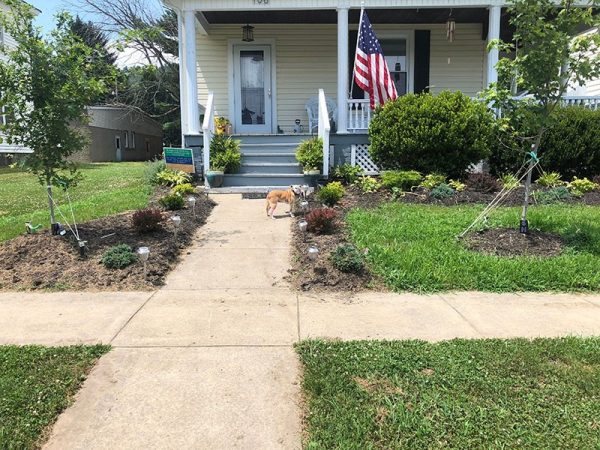 The ride was nice- still hot as hell but the skies were blue and the roads clear, and I listened to Section 80 on the way up and To Pimp a Butterfly on the way back, and stopped by Costco while Lily was being treated. I had to have words with a man at the vet hospital, though, so the trip wasn't completely pleasant. Some large man (prolly two inchers taller than me with the same girth) who was easily in his late 50's- had short white hair in a buzz cut, was getting a coffee at the coffee stand, and he turned around abruptly and bumped into a woman walking to the bathroom and spilled hot coffee on himself. She immediately apologized even though he was as much to blame or more, and then started bitching about "stupid fucking people" and cussing up a storm. I just blurted out "I'll take stupid over loud and obnoxious," and he sized me up and then simmered down. One of these days I'm going to get shot, but everyone else was just sitting there letting it happen. Home team needed a time out.
Just no reason for that kind of behavior. He knows he's a large man and he was intentionally having a fit to intimidate that little woman. Made me think of Pink Floyd- "and it's too late to lose the weight you used to need to throw around, so have a good drown, as you go down, all alone" which is ironically from the song Dogs.
At any rate, uneventful otherwise. Picked up a new hose to replace the one that broke the other day, and I'm going to take a nap until it cools down a little and go out and putz around the back yard.
Speaking of large, loud men, Ed Schultz has died at the age of 64.