We actually hit our goal of $1500 in our Janet Garret OH-4 fundraiser. Thanks a lot to everyone who gave! Whenever we hit 1K in one of those, I post a baby picture. Here's Benny, eating real food for the first time.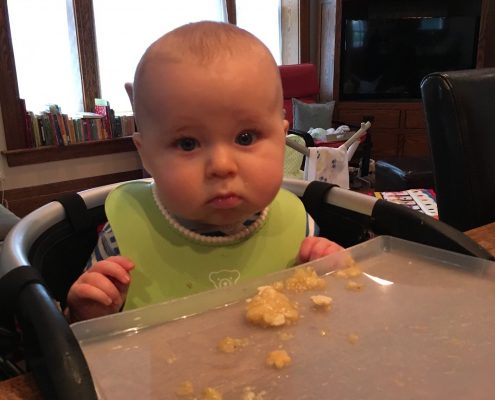 And time for another one. Reader KD writes:
I've been reading John yelling at people here since the heady days of the Iraq War. The candidate I'd like to see a fundraiser for is Catherine Krantz, running in TX-04. Catherine is a perfect example of the many women the past year and a half who got fed up, took things into their own hands, and put her foot in the political waters for the first time. She crushed her primary opponent, 68-31%, and is up against John Ratcliffe, a Tea Party Republican who is a vocal supporter of Trump, the Muslim Ban, and ending Net Neutrality.

Tx-04 is a primarily rural area northeast of Dallas. It's a huge, wide-flung district, and deeply red. The Democratic party views it as a lost cause and so she is having to do everything herself, driving all over the district and meeting voters wherever she can. She could really use any help she can get putting her message out there. She's running on a platform of Universal Healthcare, building infrastructure including high speed internet access for her rural community, and marijuana legalization (hey, Oklahoma just did it!).
You know what to do.