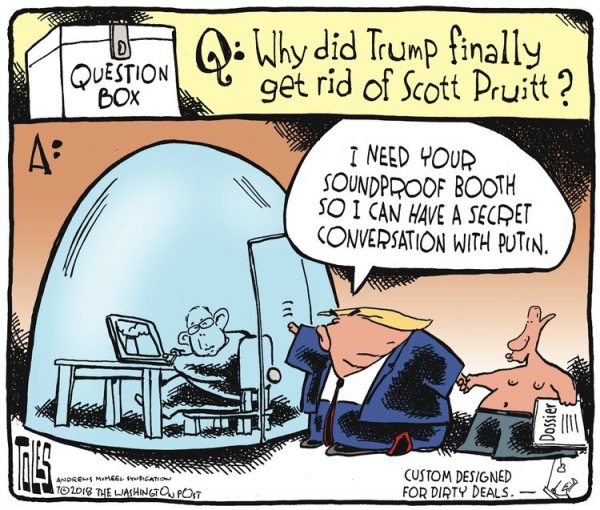 One positive piece of news: At least four of the boys trapped in the Thai cave have been successfully rescued. Next attempt is due to start around 11am EDT; I used the Buzzfeed link because it's photo-intensive and will be updated as news breaks.
And then there's the 'sad trombone' news…
It's not that they didn't turn out – it's that they don't exist. The vast majority of Americans support stronger gun laws. https://t.co/m1UvhZ2Xpr

— Shannon Watts (@shannonrwatts) July 8, 2018

From the original Washington Post source:
Student-led rallies around the country on Saturday aimed to show support for gun rights, but their effort drew smaller-than-expected crowds in a bid to counter the well-funded and organized youth gun-control lobby that emerged after the massacre at a Florida high school earlier this year.

Here in Chicago, people rallied in a corner of Millennium Park. In Los Angeles, protesters yelled "gun rights are human rights" as they marched near Pershing Square. In Washington, an American flag billowed against a backdrop of the Capitol as attendees said guns are being used as scapegoats and that society's problems run deeper than firearms…

Planning for Saturday's rallies started in April, weeks after gun-control rallies took place in the District and other cities. Some of Saturday's organizers found one another on Instagram and Facebook and decided to speak out against what they saw as an attack on gun ownership. They expected a modest turnout on Saturday, but far fewer people showed up than organizers had hoped.

In Chicago, organizers planned for about 125 people, but the rally drew approximately 35. The group gathered in a corner of Millennium Park, not on the Great Lawn, because organizers did not secure a permit and park security forced them to leave.

Earlier in the morning in the same city, hundreds of protesters shut down 10 blocks of the Dan Ryan Expressway, one of the busiest interstates in the United States. Their march along the highway was in protest of gun violence and gun-related deaths in Chicago, and the disruption drew widespread attention — and some scorn, from groups including the National Rifle Association…

In Palm Beach, Fla., about 100 people were expected to rally at a park; 13 came, including organizer Ashley Johnson, three speakers and the parents of two of the speakers.

The event was meant to be a counterpoint to the March for Our Lives rallies that attracted thousands across the country after the February shooting, including at events in Florida.

"The goal is to be just as successful as March for Our Lives," Johnson said. "We want to outdo them."…

Johnson said she was disappointed in the turnout.

"I don't know why more people didn't show up. I think a lot of conservatives are just afraid to show up for public events," she said through tears…
Yes, I am absolutely mocking these poor, innocent children — and the big-dollar, professional NRA grifters who use them as props while decrying actual victims of gun violence as 'crisis actors' and 'snowflakes'.