First, something nice: a roseate spoonbill flew over my house a while ago. I happened to be looking out the window when it flew by, and as usual, I scrambled to get outside with my camera, but NOT as usual, I actually got a photo: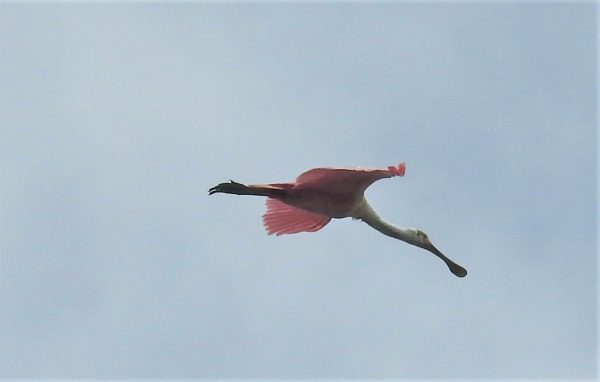 The only reason I was able to get the shot is because the bird was circling, probably preparing to land in one of the nearby ponds or canals. It's not a great shot, but I'm still psyched to have captured a photo of one of my favorite birds on the wing.
Secondly, something depressing: Jon Chait published a piece in New York mag yesterday called "Will Trump Be Meeting With His Counterpart — Or His Handler? A plausible theory of mind-boggling collusion." The whole (longish) thing is worth a read, but here's an excerpt that lays out the premise:
The media has treated the notion that Russia has personally compromised the president of the United States as something close to a kook theory. A minority of analysts, mostly but not exclusively on the right, have promoted aggressively exculpatory interpretations of the known facts, in which every suspicious piece of evidence turns out to have a surprisingly innocent explanation. And it is possible, though unlikely, that every trail between Trump Tower and the Kremlin extends no farther than its point of current visibility.

What is missing from our imagination is the unlikely but possible outcome on the other end: that this is all much worse than we suspect. After all, treating a small probability as if it were nonexistent is the very error much of the news media made in covering the presidential horse race. And while the body of publicly available information about the Russia scandal is already extensive, the way it has been delivered — scoop after scoop of discrete nuggets of information — has been disorienting and difficult to follow. What would it look like if it were reassembled into a single narrative, one that distinguished between fact and speculation but didn't myopically focus on the most certain conclusions?
Probably 95% of us here are already convinced Trump (and other Republicans) conspired with Russia to swing the election. But still, reading the narrative Chait lays out is chilling. He's right about how the way we've received "discrete nuggets of information" has a "can't see the forest for the trees" effect.
Thirdly, another depressing thing: Trump was on Twitter earlier teasing tonight's prime-time SCOTUS pick reveal, and he apparently ordered that woman who runs the RNC, Mitt's niece, to hype it up too. It's all so tacky and gross, like a reality TV nightmare in which the stakes are your civil rights.
I will most definitely NOT be watching. Will have to remember to turn off alerts on my phone too. It doesn't matter who he picks. The candidates are all uniformly awful Federalist Society/Heritage Foundation shit-birds.
Someone text me if he picks Judge Jeanine from Fox News. There would be entertainment value in that since her affect is that of a braying drunk at the end of the bar with whom every other patron avoids making eye contact. She would even make Alito, Gorsuch and Roberts squirm. (I suspect Thomas is used to similar displays from his wife and would thus be unfazed.) But otherwise, I don't give a shit.
Open thread!