Gotta love the Brits: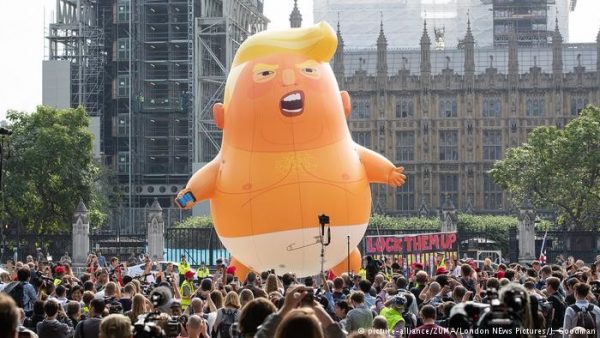 We know from the absolutely disastrous (for PM Theresa May, UK-US relations, the Western alliance, basic human dignity, etc.) interview Trump gave to Rupert Murdoch's UK scandal sheet, The Sun, that the blimp may not float like a butterfly, but it sure does sting like a bee:
Revealing he has been told of the 20ft "Trump Baby" blimp that will be flown above Parliament Square today, he said: "I guess when they put out blimps to make me feel unwelcome, no reason for me to go to London.

"I used to love London as a city. I haven't been there in a long time. But when they make you feel unwelcome, why would I stay there?
If that's all it takes to repel the lumpy orange shit-stain, I say we all get busy making our own Trump Baby blimps.
Trump just held a humiliating joint presser with May. Because he has the wit and recall of a concussed, lead-painted snail, he told a new slew of lies about NATO, made a petulant show of refusing to take a question from a CNN reporter and denounced the network as "fake news," called on Fox News ("a real network") instead, bragged about how he knows all about "the nuclear" because his uncle was an MIT professor, and demonized [nonwhite] immigrants:
This is ugly.

Trump says that immigration is not "good for our country" because it is "changing the culture." pic.twitter.com/7zTXE9Miyh

— Judd Legum (@JuddLegum) July 13, 2018
As someone in comments rightly remarked, the only thing missing was the tiki torch.
I'm thoroughly embarrassed to be an American today, and it's not even noon on the Eastern Seaboard. The buffoon will probably snatch the Queen out of her sensible shoes with one of his absurd jujitsu handshakes before tea time. Then it's on to Helsinki and Putin, where new horizons of national humiliation await.
ETA: Genius idea for Photoshopping…everything:
German TV show @heuteshow have replaced Trump with the baby blimp and it's perfect pic.twitter.com/RcDE0juip4

— Marcel Dirsus (@marceldirsus) July 13, 2018
Also, very interesting:
The only other time DOJ tweeted a Rosenstein announcement w/o topic was the day he announced Mueller's Russian indictments. pic.twitter.com/jegEAEzQ6b

— Eric Columbus (@EricColumbus) July 13, 2018