I have a new neighbor!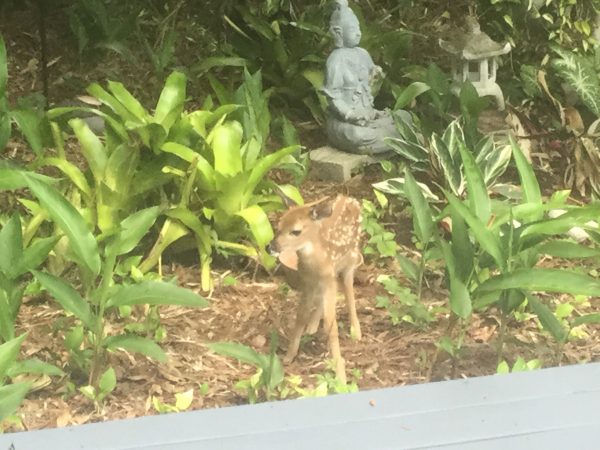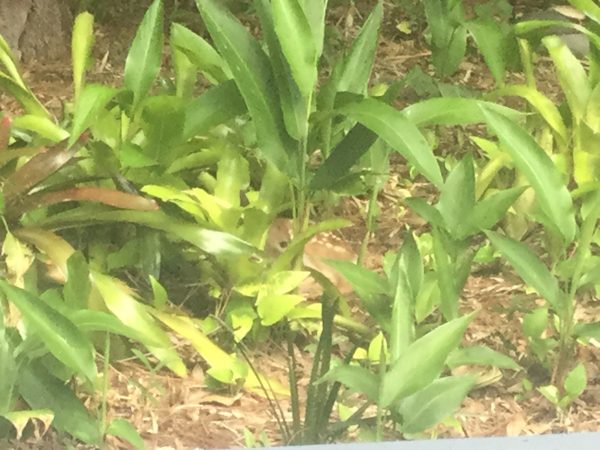 This adorable little beastie sauntered out of the scrub on somewhat shaky legs around 12:30 this afternoon. The fawn chirped a half dozen times or so while looking around then settled in for a siesta. About four hours later the fawn got up, chirped some more, walked around the side of the house, and went in to the really thick scrub, which is probably where mom was bedded down for the day. He or she chirped off and on for a bit.
The whole thing, minus mom, a family of quail partridges (or are those ptarmigans?), a family of opossums, a mole, and knowing if the fawn is male or female was kind of reminiscent of this:
I thought I'd share because we can all use a lot more beauty in our lives about now.
And a PSA from the Wildlife Center of Virginia:
If you find a baby deer:

Do any of the following apply to the fawn?

• It is bleeding, has an open wound, or has a broken bone.
• It's covered in fly eggs [look like small grains of rice].
• It's cold or wet.
• It's crying nonstop for hours on end.
• It appears weak AND is lying on its side.

• If YES, the deer is likely injured or orphaned. Contact your nearest permitted wildlife rehabilitator or veterinarian for treatment.

• If NO, then continue on to the next question.

Is the fawn in a dangerous location (e.g., by a busy road, in a backyard with dogs, etc.)

• If YES, the fawn can be moved a short distance to a safer location.

When moving a fawn, it's not unusual for the fawn to follow you as you leave. To prevent the fawn from following you, place the fawn facing away from the direction in which you plan to leave so it cannot watch you.

Tap the fawn once or twice firmly between the shoulder blades (this mimics how the mother taps the fawn with her nose to communicate "stay here and wait until I come back.")

Quickly leave the area. Do not linger. The fawn may stand up and take a few steps to follow. Keep going and the fawn should lie back down. If possible, you can monitor from afar with binoculars.

• If NO, then the fawn is healthy and simply waiting for mom to return.

Leave the fawn alone! Keep children and pets away. Monitor from a distance and reassess the situation in 24 hours.

Remember …

• Never chase a fawn to capture it. The stress of being chased can be dangerous to a fawn. Fawns are prone to a condition called capture myopathy, which is caused by chase and stress. Capture myopathy can lead to damage to internal organs, and even death.

• Never give food or water to injured or orphaned wildlife. Inappropriate food or feeding technique can lead to sickness or death. Fawns in particular have very sensitive stomachs and require a special diet. Cow's milk will make them sick.

NOTE: Each animal's nutritional, housing, and handling requirements are very specific and must be met if they have any chance of survival. Raising a wild animal in captivity is illegal unless you have a state permit. For information on how you can become a permitted wildlife rehabilitator, contact the Wildlife Center of Virginia, the Virginia Department of Game and Inland Fisheries [PDF], or your state's wildlife agency.
Open thread!