I remember seeing an old Twilight Zone episode as a kid that's stuck with me all these years. It's the one where a woman who is considered attractive by American beauty standards in the second half of the 20th century is thought hideously deformed on Planet Pigface. The moral of the story is that beauty truly is in the eye of the beholder.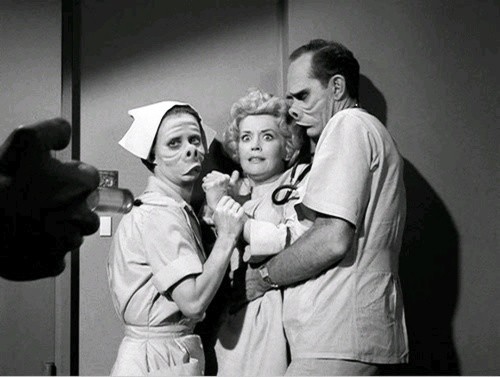 I thought of that story when I saw this Fox & Friends clip about a wingnut woman's incognito safari to a rally hosted by Alexandria Ocasio-Cortez for Cori Bush, congressional candidate for the Missouri 1st district (who sounds like a great candidate, BTW).
Fox & Friends had Daily Caller editor @VAKruta on to discuss the fear she felt attending @Ocasio2018 rally.

"They talk about things everybody wants, especially if you're a parent. They talk about education for your kids, health care… it was really uncomfortable." #BeyondParody pic.twitter.com/BULE0KFuPJ

— Aaron Rupar (@atrupar) July 24, 2018
The undercover operative for The Daily Caller, Virginia Kruta, says she's not scared of rallies in general, having attended events for Trump and Ted Cruz. But she expresses alarm at the beguiling appeal of messages she heard at the Ocasio rally:
"They talk about things everybody wants, especially if you're a parent, like education for your kids, healthcare for your kids, the things that you want, and, if you're not really paying attention to how they're going to pay for it, or, you know, the rest of that, it's easy to fall into that trap and say 'my kids deserve this.'"
The horror. But here's the part that made me feel like I was listening to a clip from Planet Pigface:
"I was mostly uncomfortable because I was surrounded by a group of people who were talking about how they had gotten involved because they were tired of being angry all the time. It seems like so much effort to be angry about everything instead of to focus on what you can do to change it."
Sounds like the crowd was at a political rally precisely because they chose to focus their anger on changing things. Only instead of being mad about ambitious women, justice-seeking black people, taco truck-driving Mexicans and what-not, they're angry about lack of access to a decent education and healthcare for their kids.
But the cognitive dissonance generated by a Trump rally-goer decrying voter anger should be jarring enough to warp a person's face. Ask not who wears the pig snout, dear. It oinks on thee.
Open thread.