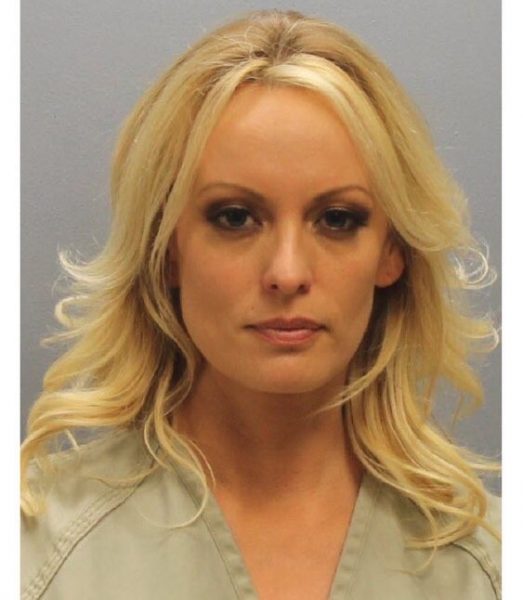 Remember earlier this month when Stormy Daniels got busted on misdemeanor vice charges in Columbus, Ohio? (Yeah, it seems like a year ago to me too.) The charges against Daniels were soon dropped, and she donated her tips from the night to the two local strippers who were arrested along with her, which makes Stormy Daniels a classier act than every adult Trump and all their supporters, combined and multiplied by infinity.
Soon thereafter, the city attorney announced that the office had dismissed the charges against the other two dancers and would no longer waste the district's time with stupid charges like those on which Daniels was arrested. As many of us noted here at the time, the incident reeked of a politically motivated hit.
The vice squad initially claimed Daniels had been arrested during a human trafficking and prostitution undercover operation — she wasn't targeted, they said, but rather just happened to be in a club that was under investigation. Columbus Police Department emails from a whistle-blower that were published yesterday seem to expose that story as a big fat lie.
The emails seem to show that lead arresting officer, Detective Shana Keckley, planned the bust well in advance of Daniels' arrival. Days before Daniels came to town, the cop sent photos of Daniels and Trump from her home email account to her work email as well as a map of the club where Daniels would be performing. After the bust, she crowed about the national attention and exchanged email high-fives with other cops, asking one to not mention her (Keckley's) name on Facebook.
Via the Fayette Advocate, which has posted copies of the emails:
"I got the elements….we arrested Stormy this morning, she is in jail." ("Elements" are the burden police officers must meet in order to make an arrest.)

In another email dated on July 12 at 3:50 a.m., Keckley writes to another police officer bragging about Daniel's arrest — without mentioning her by name — saying, "You're Welcome!!!!!….Thank me in person later."

Keckley went on to send additional emails, including one to Shane Keckley — purportedly her husband — writing, "It is all over CNN. I wanted you to know before everyone contacts you."
Most cops are Republicans, and in the age of Trump, most Republicans are willing to disbelieve their own eyes and ears in their cult-like devotion to Trump. It wouldn't be surprising if such devotion is even stronger among cops since Trump has gone out of his way to valorize the police and reinforce their biases.
A central ritual of Trump's ongoing campaign rallies is a chant to jail a retired public servant who has been thoroughly investigated and cleared of criminal wrongdoing. Trump routinely abuses his office to demand that the Department of Justice disregard due process and pursue political vendettas on his behalf. So it's also not surprising that his staunchest followers would heed that call to abuse power when a Trump nemesis happens to enter their jurisdiction.
After the charges against Daniels were dropped, the CPD tweeted a statement from the chief:
Statement from Chief Kim Jacobs in reference to this morning's media release:
Vice personnel are responsible for enforcing laws regulating alcohol sales,
after-hours clubs, massage parlors, human trafficking, nuisance properties
among other serious violations of law… pic.twitter.com/7fJFMuQATk

— Columbus Ohio Police (@ColumbusPolice) July 12, 2018
These emails should serve as Exhibit A in the investigations into the officers' motives, and if it's the political hit job it appears to be, the officers involved should be fired.
This story isn't getting much attention. The charges were dropped. Daniels is in the adult film business. Everyone already knows Trump is a degenerate, so even stories with a salacious element that are linked directly to Trump have a "dog bites man" quality. But this story is especially chilling because of the flagrant abuse of power in the service of partisan politics.
We've heard a lot about stochastic terrorism over the past few years — the incitement of random violence via public demonization. What the Columbus cops did seems to be a species of stochastic fascism. We'll find out soon enough if that sort of freelance oppression is allowed to stand.
PS: The lead cop in this politically motivated arrest is named Shana Michelle Keckley. Her husband, also a CPD cop, is named Shane Michael Keckley. That's kinda weird, isn't it? Has anyone ever seen them in the same room at the same time?