Hello and welcome to Recommended Reading, a new twice-monthly feature where we discuss books that we like, and offer suggestions to others about books that we think they might like.
Today, I would like to say a little something about the Eisner-award-winning comic epic Bone.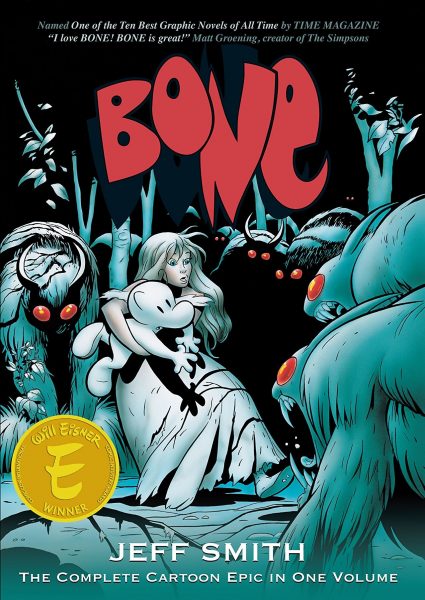 Published in installments from 1991 to 2004, Bone is now available in a single 1,332-page volume. It tells the story of the Bone cousins, three Pogo-esque slapstick scam artists who get run out of Boneville. They become separated and lost in a mysterious valley where, as it turns out, a high-fantasy epic war is brewing. There ensues love and hate, laughter and tears, unnecessarily-long homages to Moby-Dick, and stupid, stupid rat creatures!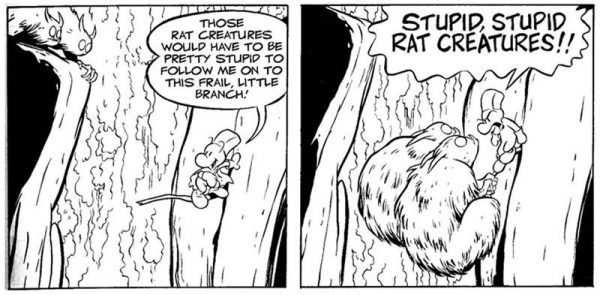 This is the graphic novel I recommend to people who are looking to get into graphic novels. It's approachable because it rests on the familiar elements of epic fantasy and the Sunday funnies. There's obviously much to love if you are already a fan of the form, too. The art is both functional and stunning. Finally, it contains my favorite dragon: The Great Red Dragon, a chainsmoking, world-weary thing with puffball ear fringe.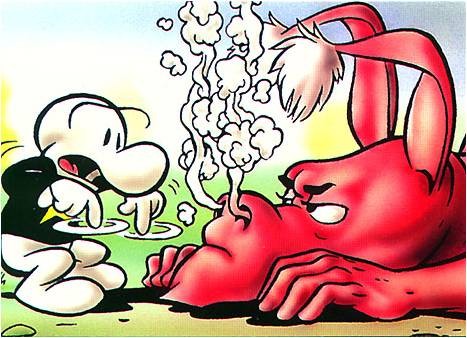 The overall feel will be familiar to fans of Terry Pratchett. 11/10 highly recommended please read.
---
We also have a special guest recommender today, one of the only other Juicers known to have met Samwise–ruemara!.
She writes,
Dead Boys by Gabriel Squailia – a fairly amazing and complex heroes journey, see review here
The Last Policeman – the only police book I want to see made into a series, review here
Chew, the graphic novels – weird, gruesome yet somehow fun, graphic novel series about Tony Chew, a cibopath. That means, "gets psychic flash on whatever he eats". Yeah, a steak can be pretty horrible for him. No posted review for the graphic novels, but here's a link.
---
What books are you bursting at the seams to share? Or maybe you're looking for something to read–please ask, the hive-mind would be happy to help!
(If you go looking for any of these books on Amazon, remember to click through the Balloon-Juice affiliate link to get there.)