CMS just announced that it had approved Maine's 1332 waiver application to run a reinsurance program. This is not surprising as CMS is gung-ho about reinsurance. It happen a week or two earlier than I thought but this is good news, CMS will process reinsurance waivers very quickly.
I was chatting with Charles Gaba. He noticed something odd about the waiver. The state's actuarial models expect reinsurance to do a lot more in lowering rates than the insurers. There is nothing wrong with discrepancies, different models with different weights should produce different results.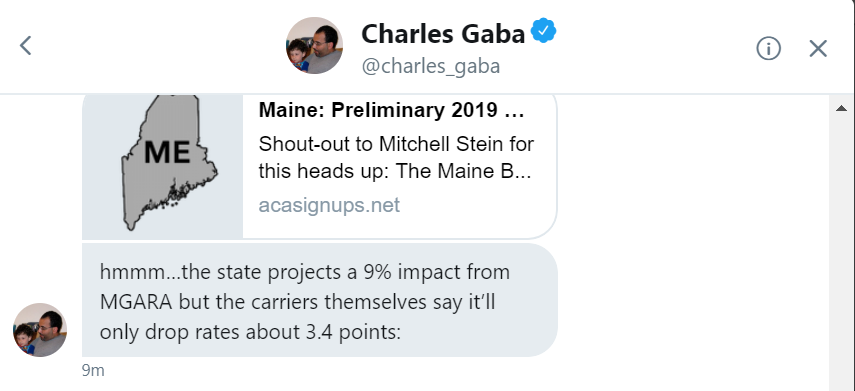 Insurers are making informed guesses as to the effect reinsurance will have on their rates. Their guesses will be wrong. It matters in what direction the guesses are wrong though. If insurers think that reinsurance is super-duper wonderful and drop their rates far below what the actual claims experience is, they lose a ton of money and the C-level may not be employed. If insurers price their products on the assumption that reinsurance won't do much, they are profitable. I think the incentives line up for insurers to try to price their products as accurately as possible with a bias towards thinking that reinsurance won't be kittens and rainbows.
I used similar logic in thinking through CSR assumptions in the Spring 2017:


Now the interesting, to me part, is that Medical Loss Ratio (MLR) acts as an awkward one way risk corridor for mis-pricing reinsurance. If insurers think that reinsurance won't do much to eat high cost claims and thus price high, and then are wrong as reinsurance eats all the big claims, they have a windfall year. However MLR acts as a cap on the windfall. If an insurer spends less than 80% of its qualified revenue on claims, it sends out rebate checks to its buyers.
This is a one-way risk corridor where overly pessimistic actuarial error benefits the consumer via rebate checks. Overly optimistic actuarial error is borne completely by the insurer's board and balance sheet.
So what does that mean?
I would not worry too much about the discrepancy between what a state regulator thinks reinsurance will do and what the insurers think it will do. If the insurers are wrong and price high, there is a limit to the windfall profits possible.