Remember the awful video from the Trump hate rally in Tampa earlier this week, with the feral meemaws making obscene gestures at the inhabitants of the press pen, their faces twisted with hate, as if a rival shopper had nabbed the last two jars of Dukes at Piggly Wiggly's annual BOGO MAYO sale?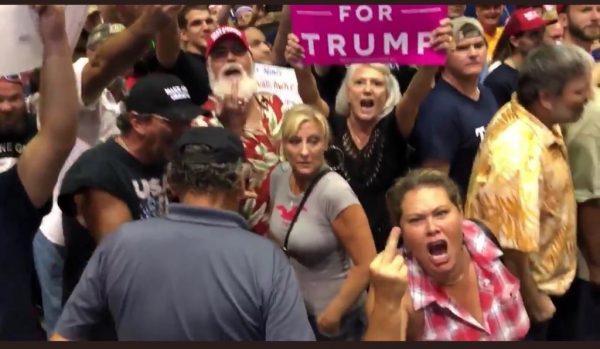 Well, Jim Acosta of CNN, who always comes in for special abuse from TrumpCo, confronted Sarah Huckabee Sanders about Trump's fondness for ginning up hatred toward the press at today's briefing and asked her — twice — to say that the press isn't the enemy of the American people. She declined:
Complete exchange between @Acosta and @PressSec on whether or not the press is the enemy or the people.

Full video here: https://t.co/0dlyUd8srP pic.twitter.com/b9u4fliunW

— CSPAN (@cspan) August 2, 2018
Instead, Huckabee Sanders commenced with the Airing of the Grievances ritual, touching upon the comped cheese plate incident, etc. I think Trump has another hate rally this evening, this time in Pennsylvania. Seriously, I hope there's extra security for the press pen. One of these days, the goobers are going to stage a lynching on live TV.