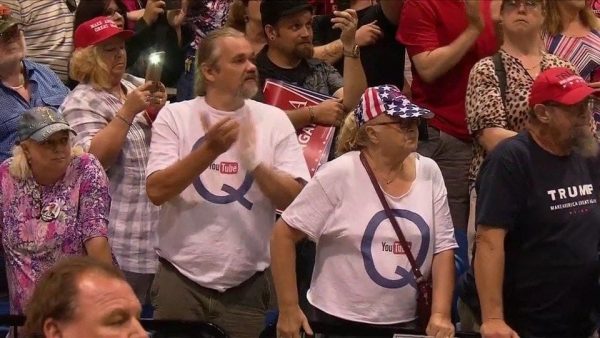 The first time I ever heard about his QAnon bullshit was in connection to Roseanne Barr, before she got herself fired for tweeting racist garbage. She made a vague reference to Trump saving thousands of children from sex slavery. In response to a collective WTF, folks did some digging, and it was revealed Barr buys into this wackadoodle conspiracy theory.
QAnon got more attention after people holding Q signs and wearing Q t-shirts showed up at Trump's hate rally in Tampa. Here's an excerpt of a piece on the conspiracy theory published in The Post yesterday:
QAnon adherents encourage those seeking the truth to "follow the White Rabbit," but it's hard to hop down this hole without getting totally lost in their horrorland. The simplest description of the plot line goes something like this: President Trump isn't under investigation; he is only pretending to be, as part of a countercoup to restore power to the people after more than a century of governmental control by a globalist cabal. Also, there are pedophiles.

A figure named "Q," who supposedly possesses Q-level security clearance, disperses "crumbs" that "bakers" bring together to create a "dough" of synthesized information. (This is not how baking works, but that seems the least of our worries.) Because Q is the 17th letter in the alphabet and 17 is also a number Trump has said a few times, among other clearly-not-coincidences, he is the real deal, not an Internet troll engaged in an elaborate example of live-action role-play…

Now that it's clear that what starts on the fringe doesn't stay there, it is a real concern. QAnon's lurch from online to off hasn't manifested only in T-shirted ralliers wielding weird signs. Last week, a "baker" appeared outside Michael Avenatti's office because Q sent him there. Others have started searching for child sex camps in the desert outside Tucson. A man in an armored truck blocked a bridge near the Hoover Dam demanding the release of a report that Q claimed the government was withholding. He had two guns.
In the U.S., it has become normal for stupid, unbalanced people to be found wandering around with weapons, so it's tempting to write these unhinged believers off as insignificant. I have no idea how many of them there are — QAnon could be just a handful of idiots who are being manipulated by a teenager in Boise or a professional troll in Moscow.
But because the man in the Oval Office (or at his self-branded golf course in New Jersey since it's Friday) is a raving nutjob who is a sucker for any story that glorifies himself and denigrates his enemies, maybe this lunatic movement does bear watching. Every cult needs a mythology, after all. What do y'all think?