I figured we could use a fresh thread.
I'm headed to New York right now, sort of. My flight is delayed so I'm writing this from the terminal. So here is some miscellany. First, and relevant to me, something that our own Mr. Anderson retweeted.
To all of the haters that said this day would never come pic.twitter.com/BbJ45MZ4Fw

— Ruth Ann Crystal, MD (@CatchTheBaby) August 4, 2018
Second, I picked up an anthology of classic apocalyptic short fiction from the library (This Way to the End Times, ed. Robert Silverberg). It is a fun/dispiriting read. I thought you would all enjoy this striking description from The New Atlantis by Ursula K. LeGuin (1975).
The six o'clock All-American Broadcasting Company news announcer announced that peace was at hand in Uruguay, the president's confidential aide having been seen to smile at a passing blonde as he left the 613th day of the secret negotiations in a villa outside Katmandu. The war in Liberia was going well; the enemy said they had shot down seventeen American planes but the Pentagon said we had shot down twenty-two enemy planes, and the capital city — I forget its name, but it hasn't been inhabitable for seven years anyway — was on the verge of being recaptured by the forces of freedom. The police action in Arizona was also successful. The Neo-Birch insurgents in Phoenix could not hold out much longer against the massed might of the American army and air force, since their underground supply of small tactical nukes from the Weathermen in Los Angeles had been cut off. Then there was an advertisement for Fed-Cred cards, and a commercial for the Supreme Court: "Take your legal troubles to the Nine Wise Men!" Then there was something about why tariffs had gone up, and a report from the stock market, which had just closed at over two thousand, and a commercial for U.S. Government canned water, with a catchy little tune: "Don't be sorry when you drink/It's not as healthy as you think/Don't you think you really ought to/Drink coo-ool, puu-uure U.S.G. water?" — with three sopranos in close harmony on the last line.

[…]

The news also said that they plan to halt the tidal waves in Florida by dropping nuclear bombs where Miami was. Then they will reattach Florida to the mainland with landfill. They are already advertising real estate for housing developments on the landfill.
Third, Samwise. He took a liking to my backpack while I was packing last night. Perhaps he wanted the pin, but, having cat feet, had to settle for being near it.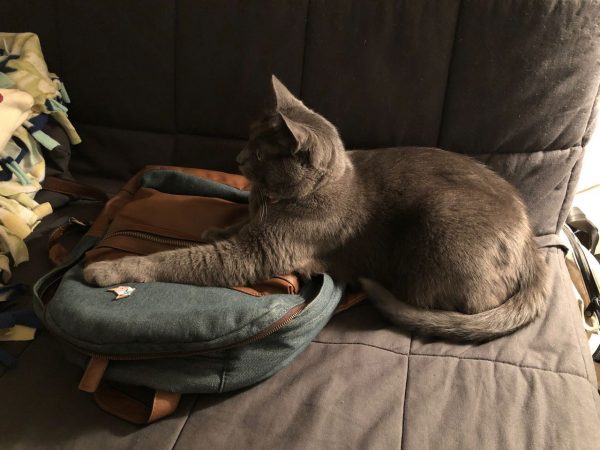 (Yes, I own an Ikea futon.)
Hope everybody has a good Pacific Daylight Time afternoon!