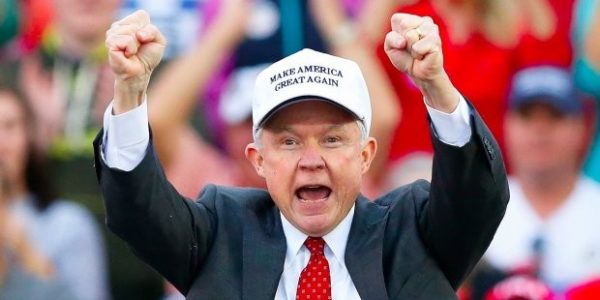 Strangely @jeffsessions appeared unannounced at @LibertyU the night before the 2016 election on a bus tour. I told students but could get almost none of them to come hear him. Could it be our students were the first to see he was a phony pretending to be pro- @realDonaldTrump ?

— Jerry Falwell (@JerryFalwellJr) August 2, 2018
Their Great Leader is bellowing like a wounded walrus, the Flock is haring after sigils and conspiracy theories, the Vile Elitists are uncowed, even their own children are turning away from the True Repub Faith… nothing about this tainted "presidency" is going as the GOP Hardcore expected. This means, of course, that they are searching for a scapegoat to sacrifice, and despite his sterling credentials ol' Jefferson Beauregard Sessions III might be the next victim.
Ed Kilgore, in NYMag, "Trumpists Seem Ready to Erase Jeff Sessions From Movement History":
It's obviously no secret that Attorney General Jeff Sessions's relationship with his former friend the president of the United States has deteriorated to the point where it is generally assumed Trump would fire the Alabamian if he didn't fear the political and legal fallout…

But Sessions's journey to the outer darkness of Trumpworld may get even worse, as reflected by this strange tweet from Trump enabler Jerry Falwell Jr…

Attacking Sessions for not doing exactly what Trump wants right now is one thing, though his original sin, his recusal from the investigation that is now associated with Special Counsel Robert Mueller, can't just be revoked. But what Falwell is trying to do is to retroactively disgrace Sessions as having never loved MAGA from the get-go.

This is a pretty remarkable piece of historical revisionism. Sessions was the first senator, and the highest-ranking official generally, to endorse Trump's run for the GOP presidential nomination, not long after Falwell's own endorsement of the mogul. He was almost universally acknowledged as a pioneer, along with Representative Steve King, of the harsh immigration stance that was Trump's signature. He was close to Trump's impresario Steve Bannon, and to Breitbart News. And even before endorsing Trump he gave the campaign his valued aide Stephen Miller, who continues to shape the administration's policies and messaging…

To this day, Sessions is loyally promoting the same Trump policies over which the two men bonded during the 2016 campaign. There is no sense in which he can be said to be "pretending" to be pro-Trump. But he has run afoul of the Boss's determination to avoid any accounting for his campaign's possible interaction with Russian agents and operatives, and so he's not only being exiled from the inner circle and threatened with firing, but is being treated as having been a budding traitor all along….
Bad luck, Mr. Sessions! You knew he was a snake when you endorsed him, did you not?
His father wasn't really known for his humility, empathy and decency either so…

— Carin Apter (@CAptNYC1) August 2, 2018
"…when you elect a president who does not adhere to the highest personal standards of character, we can expect this kind of trouble…if we are going to wind up with nothing but an attack on the duly appointed investigator, we've got a lot more trouble than I expected." pic.twitter.com/IbAIhIOIW2

— Rogue Melania???? (@RogueFirstLady) August 2, 2018

Note the datestamp at the top of the screen: This is Jeff Sessions shaking his little leprechaun head over the moral perfidity of that terrible man, President Bill Clinton… because hypocrisy is one of the foundational Repub values!