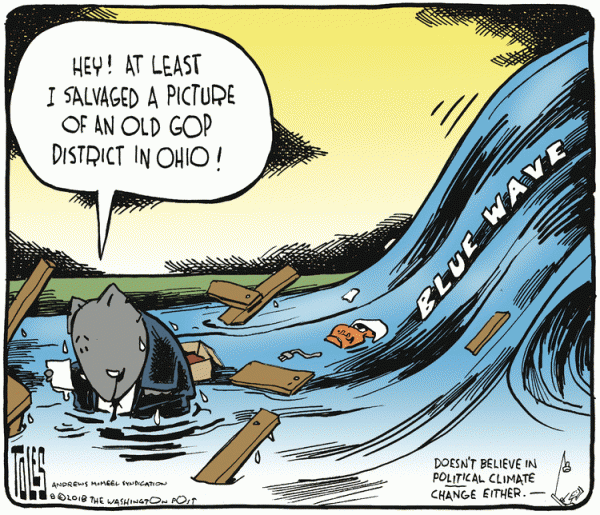 'Nothing bodes well'...
Whoever wins in Ohio, there'll be a rematch between Balderson and O'Connor on November 6.

That day, there'll be 68 Republican-held House districts up for grabs that are more Democrat-friendly than #OH12 (per @CookPolitical).https://t.co/x8PhfG1SdN

— Sahil Kapur (@sahilkapur) August 8, 2018
Re the Washington Post, "Lackluster election results spark debate over Trump's midterm role":
A new round of lackluster showings by Republican candidates reignited a debate Wednesday within the GOP over whether President Trump will be a drag on the party's chances in November and should stay out of some of the country's most hotly contested races.

Inside the White House, Trump aides are mapping out plans for the fall that would offer a variety of options to Republican candidates, including visits by the president's daughter Ivanka Trump to blue states and presidential tweets to bolster red-state allies.

But mounting apprehension about Trump's political capital lingered in Washington and on the campaign trail.

In a flurry of elections on Tuesday — from the suburbs of Columbus, Ohio, to the technology corridor in Washington state — Democrats turned out in droves and significantly overperformed expectations by posing serious challenges to Republicans in staunchly GOP districts.

Many Republican strategists viewed the results as a dark omen three months ahead of Election Day, saying they illustrate the limits of Trump's ability to boost candidates, particularly in suburban areas where the president's popularity has suffered.

Even in Republican primaries, securing Trump's endorsement was not a guarantee of electoral success…

[Ohio's] Balderson was far from the only Republican who underwhelmed on Tuesday.

Rep. Cathy McMorris Rodgers (Wash.), chairwoman of the House Republican Conference, failed to win 50 percent of the vote in a primary and will face Democrat Lisa Brown in November. Washington state has a nonpartisan primary process in which the top two finishers move on to the general election.

All year, McMorris Rodgers has been confronting pointed questions about her support for Trump's policies…

In Michigan, where Democrats are aiming to take back the governor's mansion, voter turnout set records, according to state officials, with more than 2 million votes cast — the most in the state since 1978…
New rating changes coming this PM to @CookPolitical:#KS02: OPEN (Jenkins) (R) – Lean R to Toss Up#KS03: Yoder (R) – Lean R to Toss Up#NY27: Collins (R) – Solid R to Likely R#OH15: Stivers (R) – Likely R to Solid R#WA03: Herrera Beutler (R) – Likely R to Lean R

— Dave Wasserman (@Redistrict) August 8, 2018

 
AND FURTHERMORE…
In secretly recorded audio from a GOP fundraiser, House Intelligence Committee chairman Rep. Devin Nunes said that trying to impeach Rod Rosenstein now could delay the confirmation of Brett Kavanaugh, President Trump's Supreme Court pick.

Read more: https://t.co/iH3sxZQeEv pic.twitter.com/FsS4fPPRMs

— NBC News (@NBCNews) August 9, 2018
P.S. If you are (rightly) outraged by the Nunes tape and what it reveals about how he views his priorities as Chair of the House Intelligence Committee, but are not sure what to do about it, check out @JanzforCongress, who's running against him in November: https://t.co/IUS7lASfgP

— Steve Vladeck (@steve_vladeck) August 9, 2018
I like, "Vote D-for Democrat and R-for Russia"

— Trevor Ricci (@TrevorRicci1) August 8, 2018

 
Too, also:
Hi everyone here's Nate McMurray, the Democrat running against Chris Collins in New York's 27th District. Collins was the first congressman to endorse Trump and was today arrested for a bunch of crimes. Learn about Nate, and maybe retweet. https://t.co/kUVz3ynO0g

— zeddy (@Zeddary) August 8, 2018
You may also remember Chris Collins as the guy who said his donors told him Congress had to pass tax reform or contributions would dry up. https://t.co/fyuiXDLZor

— Adam Smith (@asmith83) August 8, 2018
A question i've gotten a lot in the last few hours: How was Chris Collins, a member of Congress, allowed to serve on a board of a publicly traded pharmaceutical company when serving.

To add to that, Collins was on Energy and Commerce, which oversees the industry.

— Jake Sherman (@JakeSherman) August 8, 2018
Here is the Chris Collins email to supporters saying he's still running and will be "on the ballot for reelection this November. " pic.twitter.com/iCcqtK47SD

— Shane Goldmacher (@ShaneGoldmacher) August 8, 2018
Based on research using @baseballot's scandals dataset, I've found that a scandal costs a House candidate somewhere on the order of 10-12 percentage points of vote margin. It's a pretty significant effect. And this scandal is perhaps on the more severe side.

— Nate Silver (@NateSilver538) August 8, 2018
Lots of sign that this Rep. Chris Collins scandal will spread fast and ensnare other members of Congress. (Sub req) https://t.co/7aihea99nx

— Josh Marshall (@joshtpm) August 9, 2018

 
BRING OUT YOUR DEAD… DEAR LEAKER LEADER!
This is another great aspect of the evening. https://t.co/7wg93jaF16

— Armando (@armandodkos) August 8, 2018
Good question: "Are Republican leaders so unwilling to condemn Trump because their voters support him so vigorously, or do these voters support Trump so vigorously because so few Republican leaders have dared condemn his actions?" https://t.co/6hBvk0Hhxb

— Max Boot (@MaxBoot) August 7, 2018
No one is forgetting this. Question is what's harder to scale up: The Dem energy that seems to be humming in every suburb, or the $5m Rs have to drop into every House race. https://t.co/jVBq3CoPVg

— Dave Weigel (@daveweigel) August 8, 2018
If cornflakes are an acceptable breakfast, why not popcorn?