It's always exciting to see a hometown hero in the news. I refer of course to Owen, seen here in a file photo from December: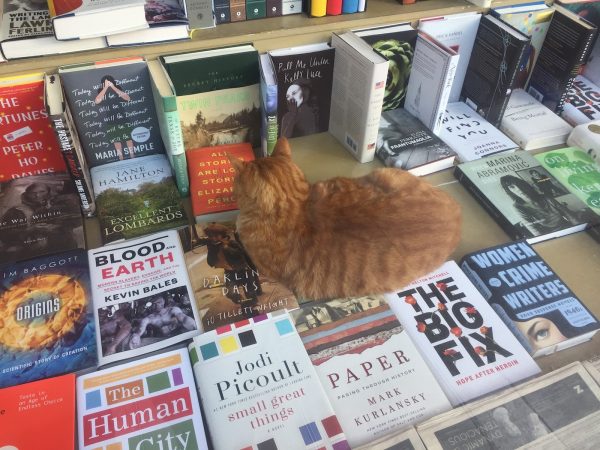 Owen works at local favorite Aardvark Books*. He's great, and so is his store. So imagine my squees of joy when I saw that he'd been written up as part of a feature on local bookstore cats!
Aardvark Books is a spacious emporium selling new and secondhand books, cards, and newspapers in San Francisco's Castro District. The store's mascot Owen has been a fixture there for 12 years.

"Owen's the real boss around here," says Aardvark employee David. You can usually find him on his favorite chair in the Myth & Folklore section.

If Owen was an author, he'd be Christopher Isherwood, says Aardvark employee Frieda, because he's "loving, kind, pragmatic and takes life as it comes. Nothing really seems to upset him."
There are eight more Bay Area bookstore managers pictured in the article. I was happy to see it included Hudson the sphinx over at Borderlands, the local sci-fi/fantasy/etc. emporium. But Owen is my main squeeze in this category (possibly because he has fur and is therefore more pleasing to squeeze).
Why so many bookstore cats?
Recycle employee Eric says that owners used to dread rats chewing the pages of their books so would bring in cats "as a practical way to keep the rats away, a tradition that never really left."
Samwise serves a similar role, eating the silverfish that might otherwise gnaw at my book bindings. But I won't be sharing a picture–Owen's the real star today. Open thread!
—
*Aardvark may be forced to close soon, after almost forty years in operation, since the building is on the market and will be delivered to the buyer empty. This will add another vacant commercial space to a neighborhood already littered with them. (The restaurant space next door allegedly has a new business coming in soon… after more than three years.)