The Wilderness of Mirrors is a reference to getting lost in both the overwhelming amount of information and disinformation, as well as the minutiae of that information and disinformation, when doing intelligence and counterintelligence work.
"Angleton is credited with coining the term "Wilderness of Mirrors " meaning the confusion of the world of intelligence and espionage. He wrote that the "Wilderness of Mirrors "consists of the myriad stratagems, deceptions and all the other devices of disinformation that the Soviet Union and its coordinated intelligence services used to confuse and split the West, producing an ever-fluid landscape where fact and illusion merge. The term was used by David Martin as the tittle of his book about Angleton, Wilderness of Mirrors.
The open source news reporting into Russia's ongoing active measures and cyberwarfare campaign, as well as all the secondary analyses – including that done by me here at Balloon Juice – is, essentially, the largest open sourced intelligence and counterintelligence investigation in history. And like all intelligence and counterintelligence work, those of us doing it, for whatever reasons people are doing it, are all too susceptible to getting lost in the Wilderness of Mirrors.
Yesterday I came across this item that was originally tweeted out on 24 July 2018 at what would be 9:15 PM 12:13 AM EDT on 24 July 2018  in the US:
Экс-директоры ЦРУ Джон Бреннан и Майкл Хэйден, экс-директор ФБР Джеймс Коми и его заместитель Эндрю МакКейб, экс-директор Национальной разведслужбы Джеймс Клаппер, экс-советник по нацбезопасности Сьюзан Райс прощаются с доступами к секретным материалам. Welcome to the real world! pic.twitter.com/nBr8zlZeyR

— АРТЕМ КЛЮШИН  (@ARTEM_KLYUSHIN) July 24, 2018
Here's the translation via Google translate:
Ex-CIA directors John Brennan and Michael Hayden, ex-FBI director James Komi and his deputy Andrew McCabe, ex-director of the National Intelligence Service James Clapper, ex-national security adviser Susan Rice say goodbye to access to classified materials. Welcome to the real world!
I already knew that the date on the original, uncorrected Statement from the President revoking DCI (ret) Brennan's clearance was 26 July 2018.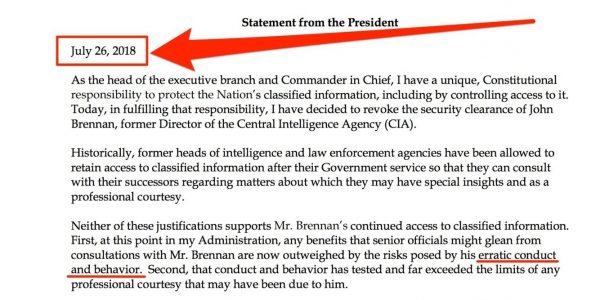 And I knew that Klyushin is a 30 some odd year old millionaire and aspiring Russian oligarch who has claimed that he discussed a new project, supposedly by FaceTime or Skype (as he's not in the photo at of the tweet I linked to – that's Emin Agalarov, not Klyushin) with the President at the 2013 Miss Universe Pageant in Moscow. And that he helped to get the President elected in 2016. Given that Klyushin isn't in the picture at the first tweet and there's no reporting I've been able to find that can actually verify that he played any role in Russia's active measures and cyberwarfare campaign during the 2016 election, it is impossible to verify if he's just a really wealthy troll or he's decided to rub everyone's nose in the well documented Russian interference in the 2016 election. Or, perhaps, both. But one of my first thoughts, which seems to have been the case for a number of people, is that the Russians got a heads up that the President was thinking of revoking clearances. This could've been directly or indirectly through Signals Intelligence (SIGINT) capture of, say, one of the President's late night phone calls with Sean Hannity.
However, this is most likely not the case!!!! Since I want to stay out of the Wilderness of Mirrors, because I don't want to lead you all into it with me, I decided to do some checking. I know that Speaker Ryan, during the weekly GOP House leadership press conference on 24 July 2018, stated that: "I think he's trolling people, honestly". He being the President. The question was asked of Ryan in response to the White House's statement on the potential revocation of clearances on Monday of that week.
Speaking at the regular press briefing, White House spokeswoman Sarah Huckabee Sanders said that Trump was considering revoking clearances for former FBI Director James Comey, former CIA Director John Brennan and former Director of the National Security Agency Michael Hayden, among others, over their remarks on the Russia investigation.

"The President is exploring the mechanisms because they politicize and in some cases monetize their public service," Sanders said, explaining why Trump is looking at what power he has to revoke the clearance of a former officials.
Huckabee-Sanders' remarks were made on the afternoon of Monday 23 July 2018 and widely covered by the news media as soon as the press conference ended. This provided both plenty of time and plenty of coverage for Kkyushin to work with before he tweeted about possible clearance revocations. Given the timing of the White House's initial statement on 23 July 2018 and all the coverage that it got, this is most likely just trolling by an aspiring Russian oligarch. That doesn't mean that Klyushin's trolling itself is not a part of the ongoing Russian active measures and cyberwarfare campaign, but trying to conclude anything more than that would risk getting lost in the Wilderness of Mirrors.
Stay on the path!
Open thread.