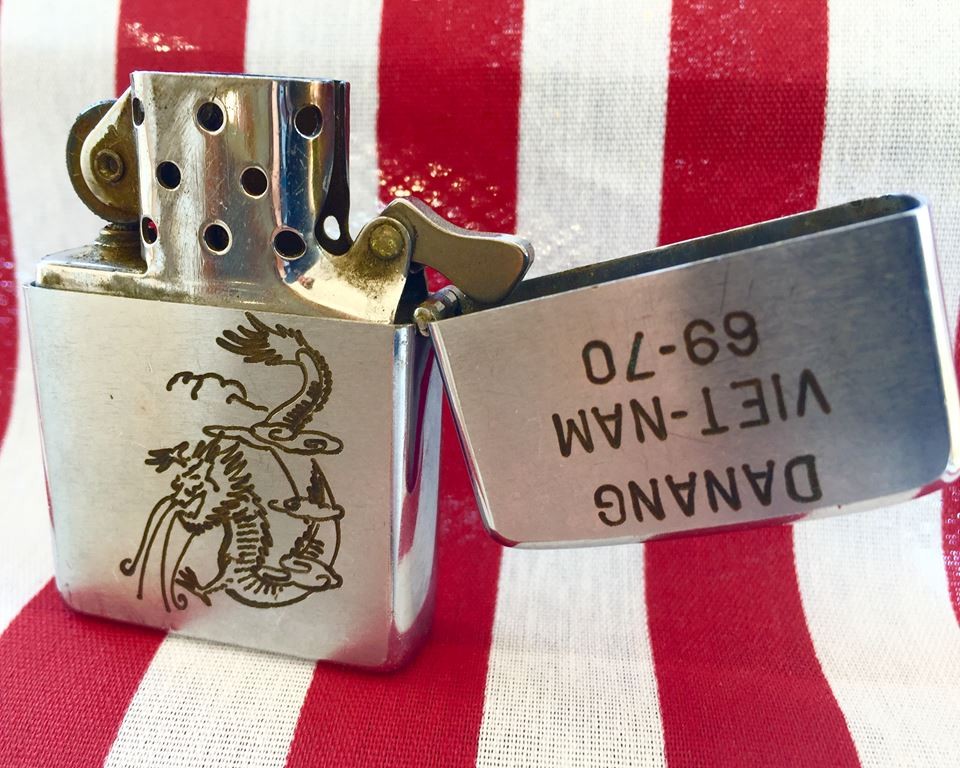 Thought we could use a little diversion on this Saturday.
An old friend of mine was going through his stuff and ran across something he found years ago. He decided he wanted to see if he could find the owner using social media. I thought I'd post it here to give it a wider audience. If nothing else, it's a fun little mystery. He writes:
The longest of long shots. — Going through some of my things recently I came across this. The lighter has been with me for many years after I found it in a specific place that the original owner would be able to identify.

Lighters like this were common possessions among service members in Vietnam. While this is 'needle in a haystack odds' social media has made it possible to do some incredible things. Everyone and everything is somewhere.

The original owner was in Danang in 1969 and 1970. That actually narrows it down quite a bit. The lighter might have been carried with them during their service or engraved as a souvenir upon returning home. My guess is they were from Illinois or Indiana, likely some state in the Midwest. Today, this person would be in their mid to late 60's. (TaMara here: could be older, my dad is 81 and was in Vietnam from '66-'67).

The original owner would know and could identify the markings on the other side. I'd say they reveal something of his personality.

I would love to return this lighter to the veteran who lost it in that very specific place. I'm sure he used to wonder where the hell it ever got to. It was not sold by him or intended to be lost. The original owner and I both crossed paths, years apart, at the place it was hiding. He could tell me about that, too. Honestly, it's amazing that I ever found it.

I hope this veteran is alive and well. It would be incredible to reunite him with his wayward zippo and hear the story of that young man and his times.

Life is busy and, as I said, this is the longest of long shots. But if someone were to lay claim to the Danang lighter I'd like to personally place it in their hand while shaking it.

If you are so inclined, especially if you live in the Midwest or are yourself a veteran, please pass this post along. I can be reached by email: HollywoodAWAC (at) GMail (dot) com

One shot. A flicker and flame—maybe some light.

Thanks all!

-Bill
Me again – go ahead and share on your various social medias if you feel so inspired.  I'll let you know if the mystery gets solved.
Otherwise, consider this an open thread!