The arc of the universe bends slowly, but, thank FSM, it bends away from stuff like this: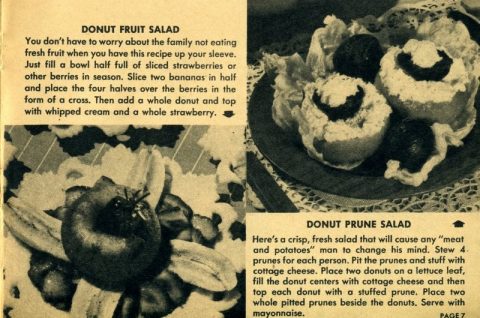 This comes via Vintage Bug and was, it seems, something of a Twitter sensation about a year ago.  I missed it then, but am delighted to discover this glorious anti-personnel dish now.
It comes, as explained at the link, from a promotional recipe pamphlet from the Doughnut Corporation of America (who knew?–ed.).  Lots more glorious horrors to be found in that post.  Donut Rarebit is a particular glory/transgression (guaranteed to make "your menfolk [sic] ask for seconds").
Anyhow, it's reassuring, sort of, that for all the genuine horrors and random acts of cruelty that adorn our days, American food possibilities have streched in ways that ensure our children will never have to confront donuts engaged in such unnatural acts (except they will, no doubt, ironically, and aiming to smack the gobs of those prior generations who did so much to rescue the nation from '50s cuisine).
With that, a picture of a happier table…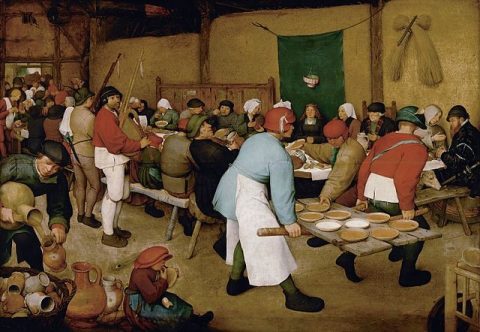 …and an invitation to adorn this open thread with the most extraordinary back-in-the-day culinary atrocities you've encountered.  For me — it's a tie between my mother's creamed corn fritters (which I loathed with a passion that only 6 year-olds can maintain, leading to truly epic dinner table battles), and a marshmellow topped jello concoction served to me at a Thanksgiving dinner in Hong Kong in 1967.  I don't remember quite what made it so thoroughly repulsive, but we were guests at neighbors from Utah, and that dish was part of home to them, and my parents made it damn clear that I had to choke my portion down or else.  I am scarred.
Image: Pieter Breugel the Elder, The Peasant Wedding, 1566-69