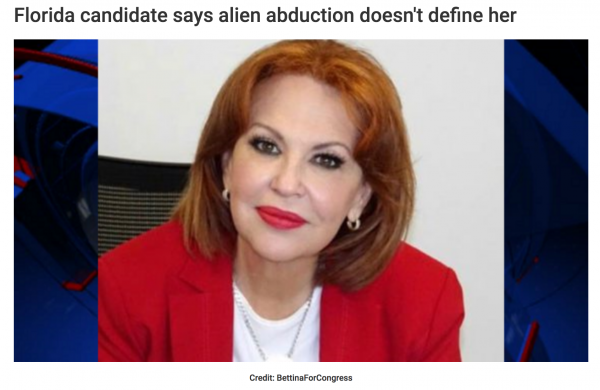 Ok, then:
U.S. House candidate Bettina Rodriguez Aguilera may have a long list of accomplishments, but she is perhaps best known for claiming that she was abducted by space aliens as a child.

Rodriguez Aguilera is a longshot in the race for the Miami-area seat being vacated by retiring Republican Rep. Ileana Ros-Lehtinen.

Yet last weekend, the Miami Herald endorsed her for the GOP nomination in the Tuesday primary out of a field of nine candidates.

In an interview, Rodriguez Aguilera said she is grateful for the endorsement and that her tale of kidnapping by aliens does not define her.
Solid. How long is it going to take before Americans can travel overseas without everyone looking at us like we have ebola?