Very sad news about John McCain. Obviously I have a lot of mixed thoughts about the man, but I think when you don't know someone yourself, the best way to judge someone is by how others feel about them, and John McCain was liked and respected by a number of people I trust, so I will leave it at that. And he went out in such a horrible way- brain cancer is just awful, awful, awful, and I feel terribly for his family. Rest in peace, John McCain.
I spent the day doing things around the house- picked up some broccoli and cauliflower plants and some lettuce, planted them, the boys helped me do some weeding and stuff, so for a reward, I took them to Five Guys for dinner and Cold Stone Creamery for dessert.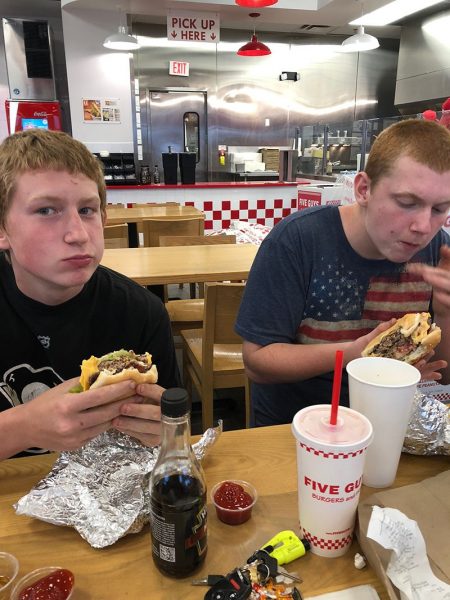 I've introduced them to malt vinegar on fries, and Taylor loves it. They had never been to Coldstone and really liked it, too. I did not have ice cream or fries because I am a disgusting fatbody. I am going to have a delicious apple here in a bit, though.
In other news, I saw this on twitter and am now captivated by all things magpie:
Incoming magpie caught on bike helmet GoPro, Central Queensland
Pic: Monique Wurth Newton #straya pic.twitter.com/c9yGOlH3pe

— Australian Kitsch (@OzKitsch) August 24, 2018
I am deep in a magpie swooping wormhole on youtube:
There is also a bird called the Butcherbird which makes me think of Bill the Butcher the way they walk around with large hunks of flesh. And that, my friends, is where my Saturday night went.