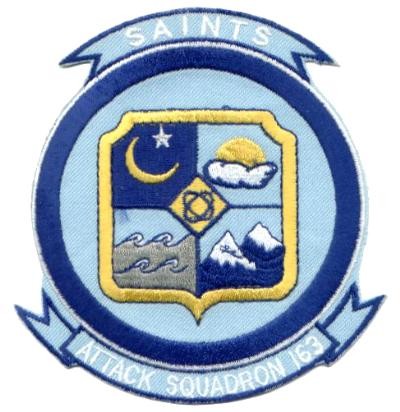 (Insignia of Attack Squadron/VA 163 – The Saints)
Over the decades and the wars that span them, new verses have been written for the Navy Hymn expanding it to cover new naval occupations and their accompanying hazards. There are two verses of the Navy Hymn that were written for naval aviators. The first by Mary C. D. Hamilton in 1915 and the second by Emma Mayhew Whiting in 1943.
Lord, guard and guide the men who fly
Through the great spaces in the sky.
Be with them always in the air,
In darkening storms or sunlight fair;
Oh, hear us when we lift our prayer,
For those in peril in the air!
Mary C. D. Hamilton (1915)


Oh, Watchful Father who dost keep
Eternal vigil while we sleep
Guide those who navigate on high
Who through grave unknown perils fly,
Receive our oft-repeated prayer
For those in peril in the air.
Emma Mayhew Whiting (1943)
And here is the traditional/original version of the Navy Hymn performed by the US Naval Academy Glee Club.
Fair winds and following seas…