It seems like NRA spokes-ghouls used to follow a protocol after mass shootings. They'd clam up for 48 hours or so, then reemerge to tut-tut the "politicization" of the tragedy before suggesting more guns as a solution.
No more. Here's NRA spokes-ghoul Dana Loesch cutting straight to the prescription from Dr. Death before the blood was even mopped up in Jacksonville: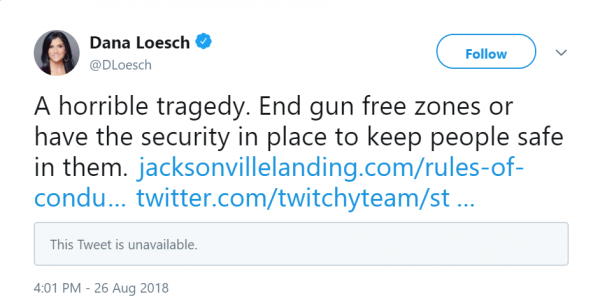 So, either everyone is strapped for a shoot-out, Wild West style, or people who attend public events must enter a police state environment. Because God forbid that gun-humping weirdos who hoard weapons and stockpile ammo should be inconvenienced even half as much as a citizen who wants to vote.
BTW, the Jacksonville shooting took place at a video game conference that was being live-streamed. A video that captures the audio of the shooting is all over the media. I wish I hadn't heard it. But it would be great if someone could hack the sound system at NRA headquarters and the GOP cloakroom and play it on continuous loop.