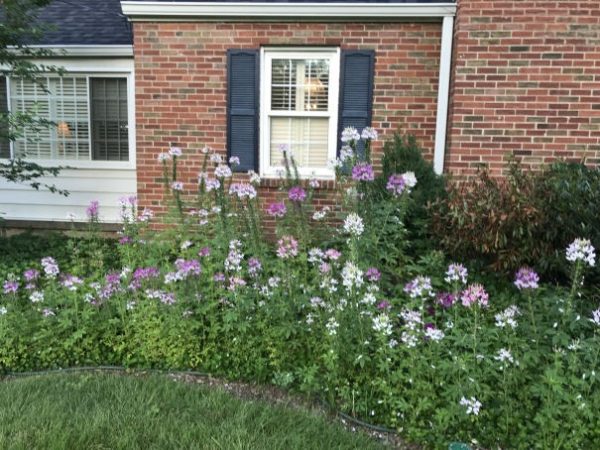 I managed to mislay these photos, from the beginning of July — sorry! From commentor Lapassionara:
These are under the category "well, I didn't see that coming."

There is a bed in front of the house that is supposed to be for some shrubs, eventually, but I have been fighting weeds there, so have been using it as an annual bed in the meantime. In 2015, I planted purple wave petunias. They did not thrive, so I chose to go in another direction. Last summer I planted 3 cleome. They were the branching type, and as the summer progressed, they got so tall that I had to stake them.

This spring, before annual planting season, the bed was wall to wall cleome seedlings, along with a few wave petunia plants. I thinned clumps of seedlings, or so I thought, but when I returned from my vacation (over 3 weeks), I found a cleome forest happily blooming [top photo].

The other surprise was the "bush sunflower" plants. They were 2 inches high when I left, and now they are way too big for the space I chose for them.

I am debating whether to try to transplant them. Suggestions are welcomed.
 
This weekend is the anniversary of Hurricane Harvey, which helps put this Summer of Weather Weirdness in perspective. At least Hawaii seems to have avoided the worst predictions for Tropical Storm Lane — "merely" four feet of rain. I hope all the Islander jackals are safe from the torrents!
What's going on in your garden(s) this week?