Donald Trump is a clear and present danger to the republic, and the mainstream press is still missing the plot.
Here's the money quote of what he said last night to a gathering of evangelical religious leaders hypocrites once the press was gone:
"The level of hatred, the level of anger is unbelievable…Part of it is because of some of the things I've done for you and for me and for my family, but I've done them," he said, per NBC News. "This Nov. 6th election is very much a referendum on not only me, it's a referendum on your religion, it's a referendum on free speech and the First Amendment….They will overturn everything that we've done and they'll do it quickly and violently, and violently" if the GOP loses, Trump said, per the report. "There's violence. When you look at Antifa and you look at some of these groups — these are violent people."
Here's The New York Times thoughtful, considered headline for their report on this speech:
Trump Privately Urges Pastors to Help Him From the Pulpit in Midterms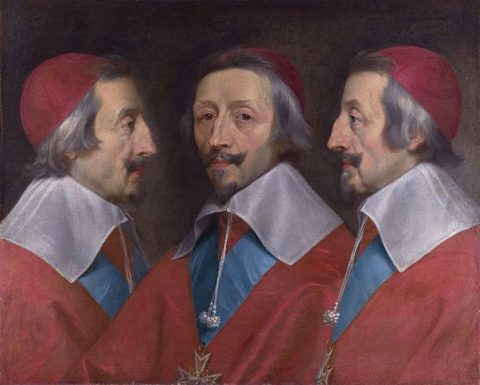 And here's its lede:
WASHINGTON — In remarks to evangelical ministers in the White House State Dining Room on Monday night, President Trump spoke in high-minded tones about religious liberty, abortion and youth unemployment. He noted a John Adams quote carved into the room's fireplace: "I pray heaven to bestow the best of blessings on this house."

But once reporters and television cameras were ushered out of the room, Mr. Trump turned to the more pragmatic concerns of how evangelical leaders can use their pulpits to help Republicans win in the midterm elections, according to an audiotape of his remarks provided to The New York Times by someone who attended the event.
Michael D. Shear, the author of the Times story, only takes notice of Trump's claims that a Democratic victory in November will spark a violent attack on self-styled Christians in paragraph 18.
To be clear: the president's assertion that his opponents are violent criminals is a pre-emptive justification for violence against them — us. In the context he uses, the alleged threat to a certain religious group or set of views, it is a pre-emptive justification for a religious war.  It is, as usual, a de-humanizing of political opposition: his people are good, folks of faith. His antagonists and theirs are haters, prone to violence and too angry to reason with.  This is how dictators frame those they want to unperson.  This is Trump, and his base.
And yet, somehow, the finest journalistic minds of our generation (just ask them) can't seem to recognize what's actually going on.  It's a mystery — and I'm not being sarcastic.  Shear and his colleagues are way higher up Trump's enemies list than I am likely to be, and they don't see it.  Given the role The New York Times plays in our polity, that puts us all in real danger; them first.
Image: Philippe de Champaign, Triple Portrait of Cardinal Richelieu, c. 1642. It's deeply unfair to associate that subtle and effective political churchman with the bozos on either side of the podium at Monday's event — but you have to admit it's a hell of a painting.