We're about to enter the final pricing season for the 2019 ACA individual market.  Insurers submitted their last and best rates for approval in the last couple weeks of August.  States and insurers have been having a six month discussion on pricing.  The general tone of that discussion is that 2018 most likely was overpriced so near inflation level price increases are likely for 2019 to let the Medical Loss Ratios get back to where they should be in the low 80s instead of where they are (high 60s and low 70s).
Optimal pricing varies by view point.  I want to sketch out an overly simplistic pricing model from three viewpoints in a single rating region with a single insurer with hypothetical premiums.  I'm also assuming similar networks and plan types.
The first view is from a state insurance commissioner who is relying on federal pass through funding for either a 1332 reinsurance waiver or a 1331 Basic Health Plan.  The second view is from an individual who receives subsidies.  The final view is from an individual who does not qualify for subsidies.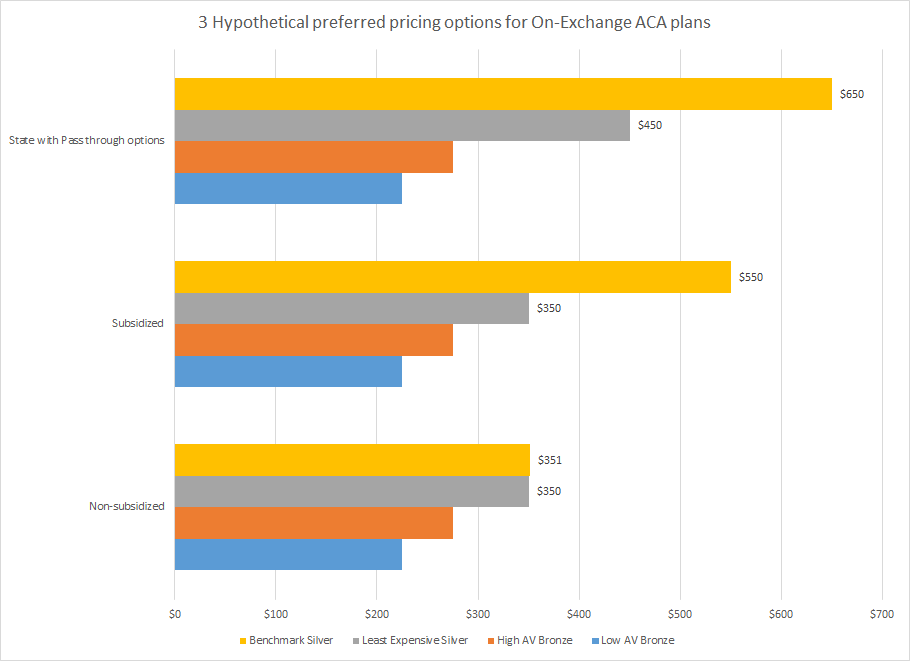 States that count on pass through revenue to fund either 1332 reinsurance or Basic Health Plans want a large spread between the least expensive silver plan and the benchmark silver plan.  A high benchmark means the federal subsidy point is set high while the large spread means that most people are going to be buying fairly cheap plans.  A large spread allows for significant state flexibility.
Subsidized buyers are similar in their preferred pricing.  They want a large spread   Higher income subsidized buyers could still see zero premium Bronze plans if there is a large spread.  If there is a small silver-spread, higher income subsidy eligible buyers would be paying several hundred dollars a month for a low actuarial value Bronze plan.
Now the individual who does not qualify for subsidies wants a low premium benchmark silver plan.  They are completely indifferent to the spread between the benchmark premium and the least expensive premium.  They just want to buy a low cost plan and all of the subsidy machinations are irrelevant.