At the Health Affairs Blog, Andrew Sprung and I try to figure out the differential impact of Silver-Loading Cost Sharing Reduction (CSR) costs into premiums and messaging/outreach environment on enrollment. We find a couple of different things.
Enrollment gains due to Silver Loading is a 200-400% Federal Poverty Level (FPL) event
Aggressive and well funded outreach with advertising, navigators, and positive strategic messaging probably leads to a ~6% gain in enrollment at all subsidy eligible income levels (100%-400% FPL) compared to outreach activities in Healthcare.gov states.
We use Covered California as a quasi-control group assuming that it is near the frontier of active outreach and positive enrollment activities.
Image 2 tells the story.  The vertical axis is the percent change in enrollment 2018 from 2017.  The horizontal axis is the income category.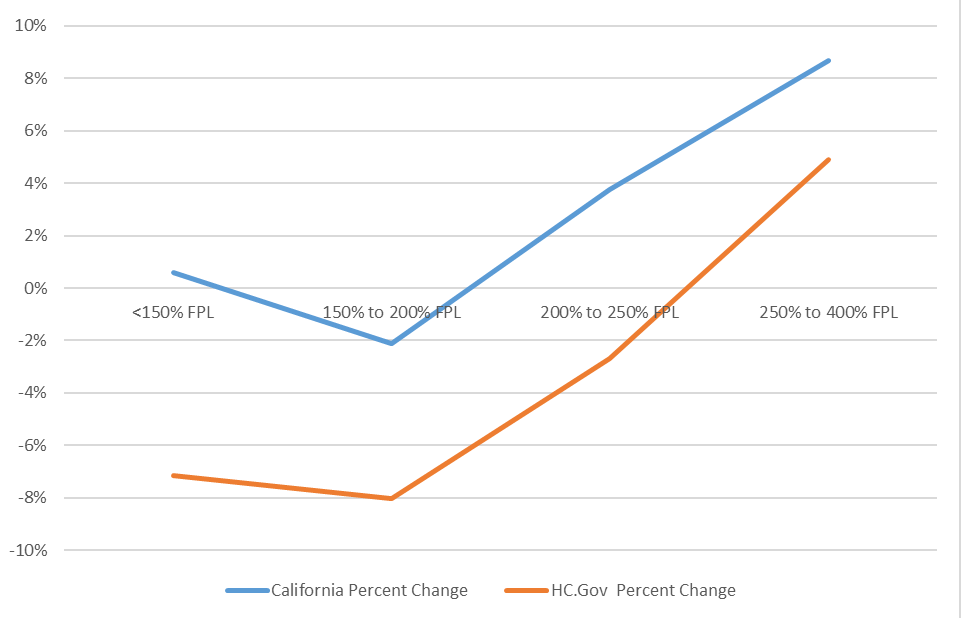 We assume that Silver Loading CSR really only changes the choice incentives for people who either don't qualify for CSR (251%-400% FPL) or weak CSR (201-250% FPL). Someone making 148% FPL in California or Oklahoma or Wyoming or Pennsylvania will qualify for a CSR 94% AV Silver plan for $61 or less per month depending on the local Silver spread.  That plan will have very low deductibles and a low out of pocket maximum.  There may be lower premium Gold plans with much higher deductibles and no-premium Bronze plans with deductibles equal to four months of pay.  Most folks who qualified for strong CSR stayed with Silver plans.  They faced no major changes in their pricing incentives year over year.
Folks earning between 201%-400% FPL are the people who saw their pricing structures change dramatically.  Gold plans may have lower net of subsidy premiums than CSR Silver plans and Gold plans will tend to have lower deductibles and out of pocket maximums than CSR Silver plans at this income level.  Bronze plans can be very low premium which could be attractive for likely to be healthy individuals in this income bracket.
The most interesting thing to me in the exhibit is the near parallel trend between California and HC.Gov states for enrollment changes by income group.  I'll let the econometricians fight but to me that constant space is roughly equal to the messaging and outreach changes.