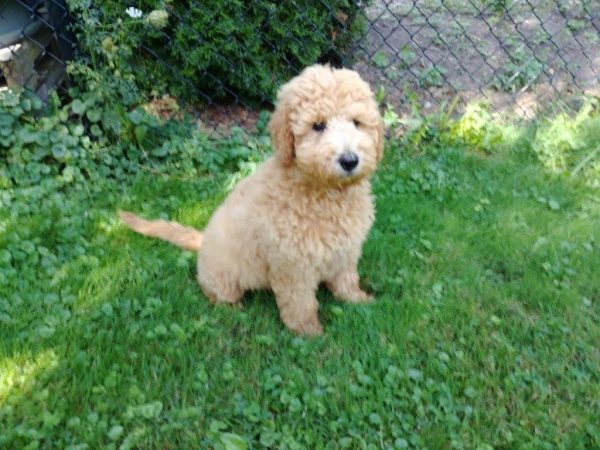 From Adam C:  This is Penny, our 18-week-old Labradoodle
I get emails! This one is from Juicer Adam C. He and his family just adopted this adorable fluff-ball. You may remember his question a few weeks ago about Canada to US puppy passports. Looks like she made it across the border and is happily adjusting.
We were able to keep her at the in-laws' for a couple of days before heading home, which was good because she was pretty despondent on the first day. By day three her tail was up and she was cheerfully investigating things, and not even the long car ride to Thunder Bay brought her spirits down. We arranged her crate in the back of the car with the door open and space for her to sprawl out in front of it or access the teenage boys in the back seat. We made frequent stops – but then, we all have to pee sometime – and made it without incident.

She is every bit as cute and soft as she looks. She loves balls and will race around at top speed before circling in for a two-footed puppy pounce. This will fit in well with our soccer-heavy family. She also loves belly rubs, obviously, and chewing everything in sight. And she's chosen me as her favourite, which is a definite mixed blessing; my wife is clearly jealous (for the dog, not me), and separation anxiety is very much not something I've missed about parenting young children.

We're still establishing routines, and there's a lot of training in her future, but she's a very smart and special little dog.
Let's give Penny a big Balloon-Juice welcome. Squeeee!
Open thread.