As we all know, the Denver airport has secrets. Dark, underground, reptilian secrets.
The dedication stone, created for the airport's opening, bears the logo of the Freemasons and was paid for by two Freemason grand lodges in Colorado, as well as something called the "New World Airport Commission", an organisation about which there is almost no information. It has led conspiracy theorists to argue that their airport is the headquarters for a secretive new world order linked to the masons or the Illuminati.

Mural by Leo Tanguma at Denver international airport. Photograph: Denver International Airport
There are also unusual murals in the airport, painted by the artist Leo Tanguma, which depict creepy images of manmade environmental destruction and genocide[…] Other theories that have been touted include suggestions that the runways were arranged in the shape of a swastika and that unusual markings on the airport floor are satanic symbols. Also that huge bunkers under the airport, allegedly created for an automated luggage system that malfunctioned when the airport opened, are in fact an underground lair for the "lizard people".
On top of all that, it's guarded by a giant, demonic horse that murdered its creator before he could reveal its true nature.
Well, now the airport has decided to add insult to injury, openly mocking the brave truth-tellers out there with new "construction signage."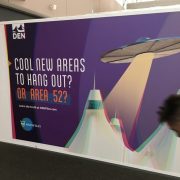 Nothing to see behind these walls ?? Learn the truth about construction in the terminal at https://t.co/Du9Gb3AmW4 #DENFiles pic.twitter.com/dd4lAdDUsp

— Denver Int'l Airport (@DENAirport) September 4, 2018
Denver International Airport is really trolling y'all conspiracy theorist with their new construction signs ? pic.twitter.com/Gg29dURhHN

— Destiny. (@CoolAsPhuck) September 4, 2018
It would be funny if it weren't so dangerous.
Open thread! And if you're going to discuss conspiracies, I want non-Trump-related conspiracies only!