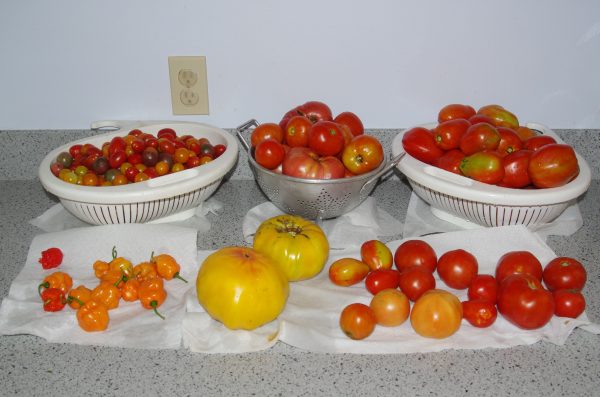 From commentor Heartland Liberal:
[Top photo] Varieties of tomatoes, grape and cherry, romas, heirlooms, with yellow habanero peppers and two read Carolina Reapers, which I can attest are weapons of mass destruction grade hot. Scrambled eggs with onion, peppers, and cheese, with a pile of the grape and cheery tomatoes, is a highlight this time of year, as are bacon lettuce and tomato sandwiches. For the latter, we have discovered that adding half an avocado makes a really great sandwich.


Monarch butterfly.


Two male Goldfinches.


Multi-headed sunflower. This picture was taken a couple weeks ago, right now it is even larger with twice as many heads.


The flower garden, primarily zinnias and sunflowers. Attracts hordes of butterflies, hummingbirds, and goldfinches. Watching from the deck has been constant pleasure for almost two months. In foreground is water scarecrow, motion activated to spray and scare of deer. Three more surround the vegetable garden. The deer flee. The raccoons laugh.


Four pumpkin varieties. Started harvesting this week, some vines starting to die, and I wanted to get them before the insects start destroying them. The largest is the Musque de Provence variety, also called the Cinderella Pumpkin. For scale, you can see about half of the 12″ handle of a hammer I put in the wheelbarrow to return to the garage. The other varieties are heirlooms, I bought several different seed varieties to try. A couple of the varieties appear not to have produced, but I have at least four or five more of the Musque de Provence which are still green and growing.


This year the raccoons started ravaging the large tomatoes on the night before I would have started picking them vine ripe. So I started harvesting while still green, and ripening indoors. As a result, we have had several rounds of fried green tomatoes. I have become really good at whipping up fried green tomatoes and breaded southern style fried okra with cornmeal and buttermilk and egg for the dredging. We came originally from Alabama, alas, without a banjo on our knees, but with a life long appreciation for fried okra. Even cold leftovers, it is like candy.
***********
I think this is the last batch of garden pics I've got on file. If you sent me pics and they've yet to be front-paged, please email me (annelaurie dot bj at gmail dot com) with a reminder. If you've been meaning to get around to sending pics, this would be a great time!
What's going on in your garden(s) this week?