This hurricane is terrifying. Not only will I not be going on vacation to the Outer Banks this weekend, but the Outer Banks may simply cease to exist: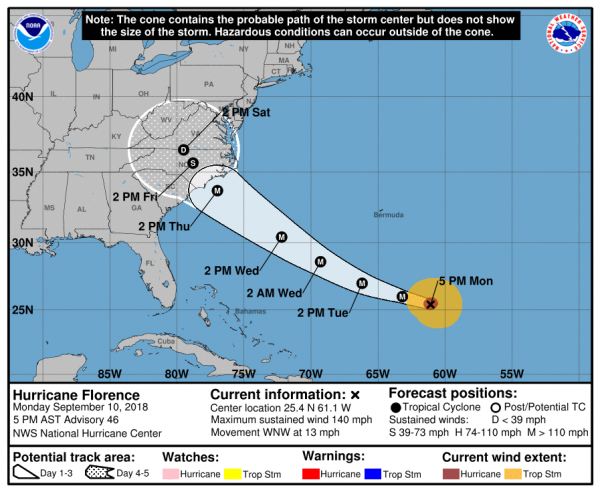 Unfortunately, Bruce Willis and Batffleck will not be able to save us:
Key Messages:

1. A life-threatening storm surge is likely along portions of the coastlines of South Carolina, North Carolina, and Virginia, and a Storm Surge Watch will likely be issued for some of these areas by Tuesday morning. All interests from South Carolina into the mid-Atlantic region should ensure they have their hurricane plan in place and follow any advice given by local officials.

2. Life-threatening freshwater flooding is likely from a prolonged and exceptionally heavy rainfall event, which may extend inland over the Carolinas and Mid Atlantic for hundreds of miles as Florence is expected to slow down as it approaches the coast and moves inland.

3. Damaging hurricane-force winds are likely along portions of the coasts of South Carolina and North Carolina, and a Hurricane Watch will likely be issued by Tuesday morning. Damaging winds could also spread well inland into portions of the Carolinas and Virginia.

4. Large swells affecting Bermuda and portions of the U.S. East Coast will continue this week, resulting in life-threatening surfand rip currents.
Yikes.
And it goes without saying that if one of you needs a place to stay and can't afford to styay in a hotel to just holler and I will come get you and you can crash here and enjoy my new lakefront property and floating garden.