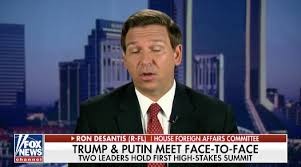 Florida's Republican attorney general, Crooked Pam Bondi, fills her copious free time after doing the people's legal business by moonlighting as a Fox News personality. She's not the only Florida Republican who does that.
Ron DeSantis, the Republican nominee for governor, has appeared on Fox News more than 120 times since Trump endorsed him, which amounts to nearly $10 million in TV air time value. He doesn't discuss Florida issues because national viewers don't give a shit about Florida — DeSantis is a reality TV cast member on the 24/7 Trump Show that is Fox News.
The Trump Show contestant strategy paid off for DeSantis in the GOP primary. Republican voters ate his servile Trump toady act up and kicked establishment drone Adam Putnam back to the citrus grove from whence he emerged.
The question now is, can DeSantis extract himself from Trump's rectum long enough to convince Floridians who DON'T watch Fox News all day that he could govern this crazy-ass state? The early signs are not promising. From the Tampa Bay Times:
DeSantis, 39, overwhelmingly beat Agriculture Commissioner Adam Putnam in the Aug. 28 primary, but he's continued to keep quiet about his agenda as governor. His main message has been that Democratic nominee Andrew Gillum is too liberal for Florida…

His campaign confirmed several days ago would sit down with the Tampa Bay Times to discuss his position on issues facing Florida between campaign stops in Pinellas and Hillsborough Counties Tuesday. The campaign cancelled Tuesday morning, saying they wanted to give him time to flesh out his platform before taking questions.
Emphasis mine because what the actual fuck — the dude needs time to create a platform after he won the primary? That's a stunning admission all by itself.
Gillum struck just the right note in response to that bush-league fuckery:
TFW you're still waiting on @realDonaldTrump to give you your general election platform…

Meanwhile, I'll be over here fighting for higher wages, more money for schools, and affordable healthcare. https://t.co/WulcgnVdrf

— Andrew Gillum (@AndrewGillum) September 12, 2018
Our present national predicament is an obnoxious orange reminder that one needn't be smart, mature, competent, in touch with constituents, empathetic, knowledgeable nor have a coherent agenda to reach the highest office in the land. So I wouldn't count DeSantis out.
Still, if I were a DeSantis handler, I'd augment the "Build the Wall," "NO COLLUSION" and "MAGA" cue cards to include some issues relevant to Floridians who aren't mainlining the Trump Show all day.