A friend of mine from college brought this fun graph to my attention today.
Households with cats and dogs in the US for this week #TidyTuesday #r4ds

Again, modeled after the plots in @kjhealy great Socviz book.

Code: https://t.co/0yhFHC0hFd pic.twitter.com/uFkn8dackk

— Otho (@OthoMn) September 11, 2018
It's the ratio of households-with-at-least-one-cat to households-with-at-least-one-dog, by state and region. Click to embiggen: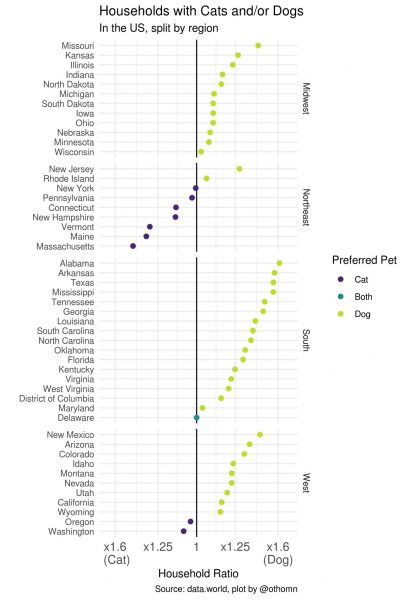 (R code; raw data sourced from the American Veterinary Medical Association)
Perhaps this explains my sense that I'm meant for the northwest and northeast corners of this country. Anybody want to offer some (responsible) speculation on what this all means? And what's the deal with Delaware?
Open thread!