My spouse and I like to cook — a lot.  She's a former pro, which helps, and I love food and find in cooking a kind of empty-mind release, so there are a lot of nights on which we make a pretty complicated meal.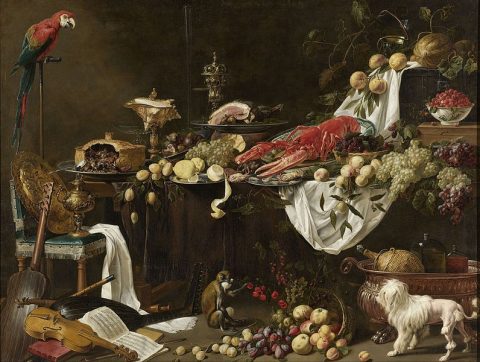 And then there are the other evenings: we want good stuff, but it's eight or so, and we don't want eat at ten, or we're just tired, or it's too f**king hot, or we've been dealing with the sprout in ways that have consumed all our attention or whatever.
That was last night.  There wasn't anything onerous, but me working on the book and she on a very tricky design, and the need to take a bike ride through the nicest late afternoon we've seen in a while, and this and that and then some more pushed us past the "let's build a recipe" opportunity.
So we picked up a really pretty bone-in rib steak and set out to produce a meal that wouldn't take that much longer to put together than the cooking time for the meat.
It turned out great — my other half roasted some late season corn on top of the stove, to be incorporated in a corn-and-peppers-and-onions relish; there was some farmer's market broccoli rabe, quickly sauteed, and we got the steak right, done to a really nice medium rare, and given ten minutes to rest.
But my point in all this — and I do have one — is that the cherry on top, as it were, was a sauce for the steak that doesn't come from any cookbook or online recipe. Instead, it just kind of emerged one evening as I was throwing some stuff together, and has gotten a little refined, and has now become a go-to.
It started from a simple garlic oil, the kind you put on pasta w. a bunch of cheese when you don't want to cook at all.  Say, two or three cloves, depending on the monstrousness of your garlic bulb, finely chopped and dumped in a couple of teaspoons of hearty olive oil and some salt.  I use a tiny ceramic coated cast iron saucepan inherited from some long ago group apartment; anything small and heavy is great.
I put the pan over very low heat: the goal is to stew the garlic, not to fry it.  After a minute or two, I add some finely chopped shallot — about half a bulb, more or less the same volume as garlic, or at least not too much more than that.  Again, stew (or poach, if you prefer) over low heat until the shallots are nice and soft.  I often toss in some fresh thyme at this point.
Then I add two or three pappadew peppers — the pickled, kind of sweet red ones — again, finely chopped, and let them warm through.  Once the whole mix is up to temperature and nicely blending, I add between half and a full teaspoon each of whole grain mustard and prepared horseradish.  I taste, add a little maple syrup to give it that slightly sweet flavor I think goes great in a steak sauce, adjust again (had to add a little lemon last night, as I overdid it on the syrup pour), give it a stir, and call it done.
I have no idea where that came from; it may be just that I was looking at the inside of my fridge one evening and saw the necessary ingredients. But it's dead simple and the bee's knees — and it is a kind of all purpose thang too (it makes a great light pasta sauce on soba, for example).  Try it. To use the phrase every Hollywood mogul employs to say "f**k you"…
…trust me.
And with that, given it's Sunday, and we may want to spend more than ninety seconds not utterly consumed by disasters, natural or political, how about a thread on cool stuff to eat you just made up.  And who cares if your delight might repulse the vast majority of humanity? If you invented it and like it, share it.
And, hell, this is an open thread, so anything else you've conjured out of the stray corners of your mind, (especially if its an invention in any domain of which you are ordinately proud).
Image: Adriaen van Utrecht, Banquet Still Life, 1644