This is Garrett Ventry: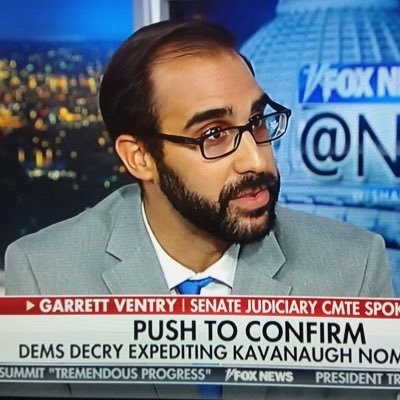 (Image taken from Ventry's twitter feed)
Garrett's been a very naughty man…
At 4:39 PM on on Thursday 20 September 2018, Ventry in his capacity as the spokesperson/communications advisor for Senator Grassley's and the GOP majority on the Senate Judiciary Committee for the Kavanaugh nomination tweeted the following:
To reporters asking: The Senate Judiciary Committee had no knowledge or involvement. https://t.co/MBmqrwMyp5

— Garrett Ventry (@GarrettVentry) September 20, 2018
There's only one problem with this. As reported yesterday, Ed Whelan was coordinating with CRC Public Relations on his insane an attempt to exonerate Kavanaugh by implicating Kavanaugh's classmate via tweetstorm. Do you know who worked for CRC Public Relations while Whelan was coordinating with them about committing a gross, public stupidity? Garrett Ventry. And do you know why CRC Public Relations sent him to work for Grassley to help shepherd the Kavanaugh nomination through? Because Leonard Leo, who controls the Federalist Society, as well as several related organizations like the Judicial Crisis Network through an opaque and largely unknown financing network, and who is a good friend of Ed Whelan's – another senior Federalist Society member – asked CRC to send Ventry to work for Grassley on this.
Update from @elianayjohnson: https://t.co/l5MDO8cM3D via @politico pic.twitter.com/04biskuyZn

— Sarah Posner (@sarahposner) September 22, 2018
More (Mueller is Greg Mueller, president of CRC, once described as their "public relations maestro"):https://t.co/uyEROSiDCn pic.twitter.com/3d9cO34zhO

— Sarah Posner (@sarahposner) September 22, 2018
But wait, there's more!!!! Apparently among Ventry's personal preferences was one for sexually mistreating women.
WASHINGTON — A press adviser helping lead the Senate Judiciary Committee's response to a sexual assault allegation against Supreme Court nominee Brett Kavanaugh has stepped down amid evidence he was fired from a previous political job in part because of a sexual harassment allegation against him.

Garrett Ventry, 29, who served as a communications aide to the committee chaired by Sen. Charles Grassley, R-Iowa, had been helping coordinate the majority party's messaging in the wake of Christine Blasey Ford's claim that Kavanaugh sexually assaulted her 36 years ago at a high school party. In a response to NBC News, Ventry denied any past "allegations of misconduct."

After NBC News raised questions about Ventry's employment history and the sexual harassment allegation against him, Judiciary Committee Spokesman Taylor Foy replied in a statement: "While (Ventry) strongly denies allegations of wrongdoing, he decided to resign to avoid causing any distraction from the work of the committee."
Spox for CRC Public Relations, which had employed Ventry, sends this statement: "Garrett was on a leave of absence from the company and as of this morning we have accepted his resignation."

— Seung Min Kim (@seungminkim) September 22, 2018
And if anyone was still wondering how Whelan got Ford's name, apparently someone he was in contact at the White House (most likely rhymes with Shill Bine or Mon DcGahn) gave it to him.
It now appears that Whelan got Ford's name from friends at the White House.

Senate Dems should demand testimony from Whelan & his WH associates related to their apparent coordinated conspiracy to discredit a sexual assault survivor. pic.twitter.com/QouAFK24X9

— Matt McDermott (@mattmfm) September 22, 2018
If you're going to conspire to do something dodgy, you should really establish a set of best practices so what you're doing isn't 1) SO FUCKING OBVIOUS!!!! and 2) easily detectable by anyone who can trace a simple set of social and professional connections.
Who knew that when Andrew Breitbart, who, like Antonin Scalia, is still dead – unlike Paul Manafort and Mariia Butina who are just still in jail, but will one day die in prison from old age – was caught on video screaming "STOP RAPING PEOPLE!!!!" over and over he was speaking to conservative legal and judicial professional?
Open thread!