On the Road is a weekday feature spotlighting reader photo submissions.
From the exotic to the familiar, whether you're traveling or in your own backyard, we would love to see the world through your eyes.
Good Morning All,
On The Road and In Your Backyard is a weekday feature spotlighting reader submissions. From the exotic to the familiar, please share your part of the world, whether you're traveling or just in your locality. Share some photos and a narrative, let us see through your pictures and words. We're so lucky each and every day to see and appreciate the world around us!
Submissions from commenters are welcome at tools.balloon-juice.com
Have a wonderful day! For me, it is really iPhone day, as mine arrives tomorrow, not last Friday. First World Problems!
—
Lots of submissions are coming in, hurrah! Tomorrow I'll post a few smaller sets, but do keep submitting.
Note – HinTN, your submission was empty (no pictures) and everyone else is doing well.
Troubleshooting  We have an improved setup and plans for further development. I hope the new setup works as well for you as it has in testing, but should you have issues, please email [email protected] This new submission tool is one of many more we've got planned, and your feedback helps us craft them to your needs.
Today, pictures from valued commenter Wag.
My wife, Beth, and I have made it a tradition to celebrate our anniversary in August by climbing 14,000 ft tall peaks in our home state of Colorado. This year we ventured to the Sangre de Cristo range to climb in an area called the Crestones. Crestone Peak and Crestone Needle are two of the more rugged peaks in Colorado, and were the last two 14er's to be climbed, with respective first ascents on July 23 and 24, 1916. The team that climbed them, Eleanor Davis and Albert Ellingwood, were an amazing pair of mountaineers.

Taken on 2018-08-31 00:00:00

A view of the west side of the Peak and Needle. We climbed the trough
Taken on 2018-08-31 00:00:00

Approaching the Peak
Taken on 2018-09-01 00:00:00

Crestone Needle and Peak As seen from nearby 14er, Mt Humbolt
Taken on 2018-08-31 00:00:00

We woke at 4:30 on the day of our climb and climbed our first objective, Broken Hand Pass, in the dark. We then descended the west side of the Pass to Cottonwood Lakes.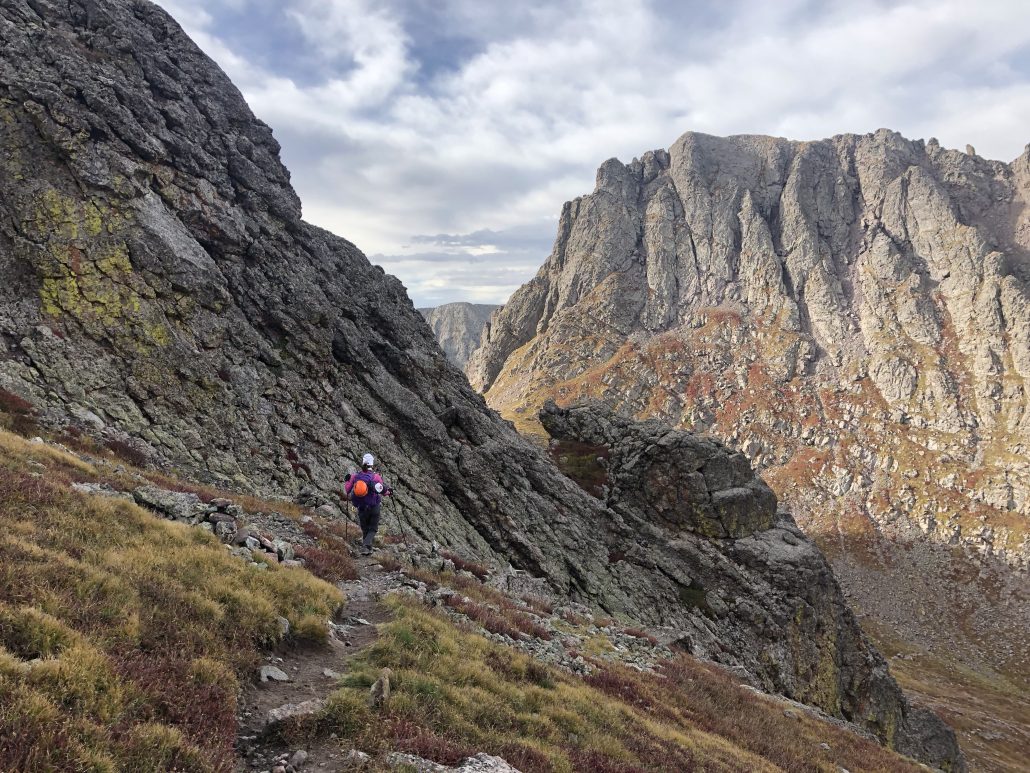 Taken on 2018-08-31 00:00:00

We had hoped to climb the Needle after the Peak, but it began to hail as we re-ascended Broken Hand Pass, forcing us to give up that plan. We will return next season to climb the Needle.

The next morning, we climbed Mt Humbolt, another 14er across the valley from the Crestones, giving me a chance to take the photo that opened this series.
Thank you so much Wag, do send us more when you can.
Travel safely everybody, and do share some stories in the comments, even if you're joining the conversation late. Many folks confide that they go back and read old threads, one reason these are available on the Quick Links menu.
One again, to submit pictures: Use the Form or Send an Email